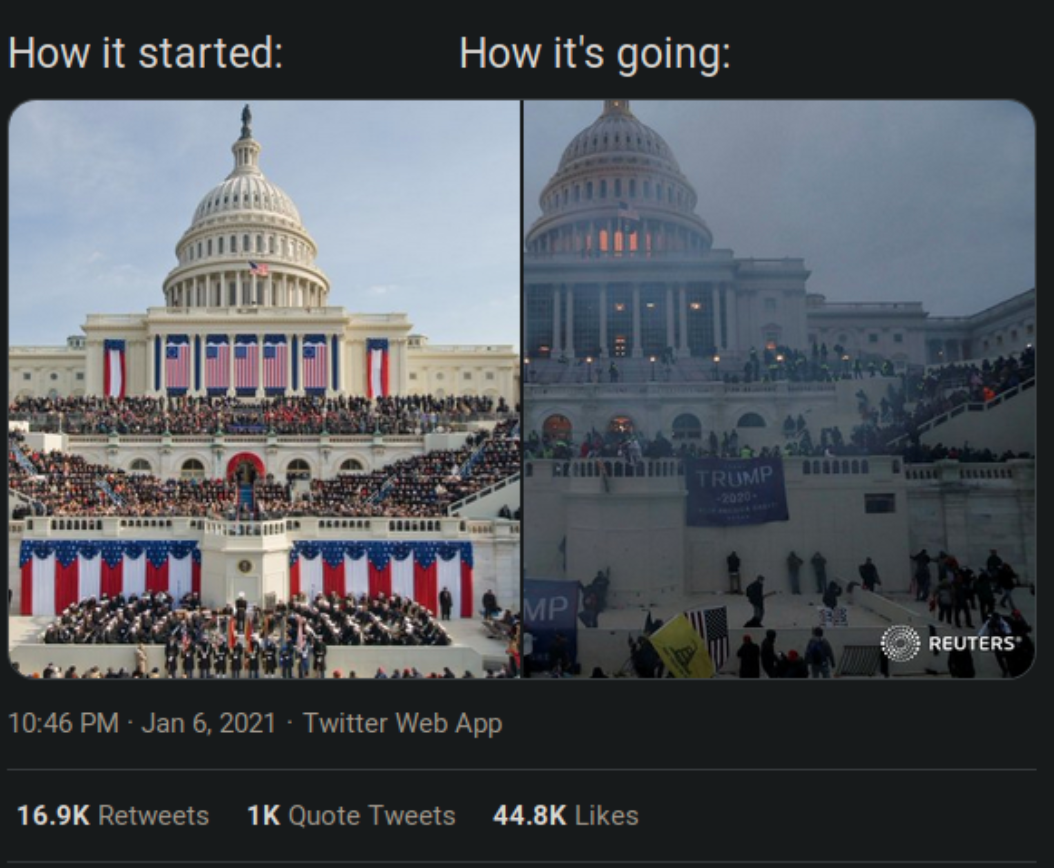 I'm writing this post, as I do all of them, in advance of its publication, just after the attempted overthrow of the government/Capitol building by pro-Trump extremists. The essay will go live on the day that's supposed to see the inauguration of Joe Biden and Kamala Harris as POTUS and VPOTUS. At this moment, I don't have any certainty that we will see a peaceful transfer of power from our outgoing president to our incoming president. The outgoing president won four years ago only through the Electoral College while the incoming president got more votes than any other candidate in history. In yet another show of immaturity, the outgoing president won't attend the inauguration, but he's got to go because enough is enough.
I understand that the people who protested civilly, the people who insurrected, and the congressional representatives who voted not to certify the election honestly believe the election was stolen. I have two points to make about how their honest beliefs were carefully orchestrated by a toxic set of political maneuvers.
First, I want to put it out there that I agree with the outgoing president's claim that there was attempted voter fraud. I've heard the proof. Georgia's Secretary of State Brad Raffensperger recorded the phone call. Donald Trump tried to defraud the American people by pushing to change the election results. That's it. There was no other voter fraud, yet Trump's false allegations and instigation convinced thousands of people to protest and hundreds to attempt a violent overthrow of the government. We can't let people hear his lies because enough is enough.
Second, the people believing his lies consider themselves true patriots. That doesn't make sense. To believe what he's saying means to believe that thousands of American county clerks and commissioners, election volunteers, poll monitors, and other citizens have all been corrupted into fraudulent behavior. To believe Trump means to doubt thousands of good citizens who donate their time to assuring our electoral process is fair and free. These truly patriotic Americans are Republicans, Democrats, and Independents who give thousands of hours to make sure the system works. There are things about our election system that don't work--the electoral college and voter suppression come to mind--but fixing those problems would have shown that an even smaller percentage of Americans want Trump in office than this election showed. To fix the system, we need more people who do the kind of positive work that Stacey Abrams did and fewer who do the damage that Donald Trump did. We need to get him out because enough is enough.
Believing DT and acting on his urgings was NOT a patriotic act. It was NOT patriotic to try to overthrow our nation's Capitol. It was NOT patriotic to use violent force  against our government's elected officials. DT's diversivolent lies about fraud led to insurrection. (Thanks for the Wordsmith emails, AR, as "diversivolent" is a useful one.) Some people have gone to jail for what they did on January 6, 2021. Donald Trump should also go to jail for what he did (not just on January 6, 2021 but every day he was in office) because enough is enough.
Powers that be, please turn off his microphone. If Trump can't continue to fan the flames of white supremecist rot via social media, saner, kinder voices will emerge. Keep him shut out of all social media. No more spreading his lies and hate. You know where he won't be allowed to instigate anything? In the cell he's earned. Enough is enough.
In November of 2015, I joked (sadly, but still with humor) that DT's election would bring about the end of democracy as we know it. I wish I'd been wrong. I've already written about The Liar's Dividend (see post 97), but I'm brought once again to thinking about how many ways his spreading of lies and hate benefited him and hurt our country. In retrospect, it's even more horrible to think about. Enough is enough.
I know it's not good for me to wallow in my anger and sadness over what his term did to this country, so I'm trying to pivot. I'm hoping some good comes out of his pernicious behavior. I'm hoping that the racism and classism and sexism and other forms of bigotry and oppression that people concealed during Obama's leadership and revealed with Trump's encouragement are now on the table for the chopping. Now that we have heard those voices for what they are, we can push them back to the margins and work consistently and powerfully to dismantle what enables them. Now we see it and can say, enough is enough!
I have great admiration for our nation's youth. I see young people today thinking, talking, and posting, about what's wrong with our country and how we can improve. I see them marching, organizing, donating, and voting for a better system. Trump used his tweets to promote everything wrong with America, and he did so in the name of returning to an even more repressed and problematic time in our history. He convinced a lot of people that we should aim for what was great for a few and unsustainable for the  many. We have his evil leadership, his blatant approval of and support for sexist, white-supremacist, xenophobic, classist, ableist, anti-military, and violent attitudes and actions, to thank for our collective waking up and stepping up (though to be fair, only some people had the privilege to remain oblivious before this). Together with our nation's active youth, we must keep working to end what Trump brought to light, a system created to sustain inequality, injustice, and inhumanity.  Thank goodness for that because enough is enough.
I hope President Biden leads us with truth, empathy, kindness, and love, but I also hope we keep our eyes open to what we need to change. There's work to be done. Today and together, we can start to build America 2.0.
Enough is enough. It's time for truth and love. Your thoughts?