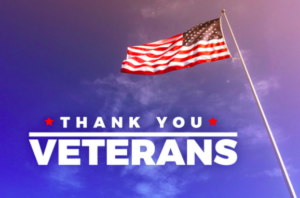 I found the photo above on an ad for a Publix supermarkets's sale. I suppose having a Veteran's Day sale strikes me as better than a Columbus Day sale, but honoring people's service this way still seems odd. Maybe Publix is giving the implied suggestion that you should donate your saved money to a group that helps veterans. That would be great.
In any case, if you serve or served in our military, the day this post goes live honors you and I thank you.
At the same time, I have to think about our current (lame duck) president who hasn't honored you. He has used such derogatory terms to describe our military and war heroes that I wonder how any veteran could support him. Here's how: he lies. He'll say one thing and then, as soon as it suits him, say the opposite. Anyone who doesn't know that his words have no consistent relationship with the truth might believe something that comes out of his mouth.
I've been thinking in particular about how, early in his successful first candidacy, he started talking about "fake news" and calling the media liars. Once the idea is out there that the American people can't trust what we hear, then he can say anything he thinks will help him. People know they're getting different stories, but it's possible that his words are the real ones. In this way, people believe his lies.
In the disciplinary system at my school, we usually have a pretty good sense of when a student is lying about something. We tell the kid, even though we know you're lying, your punishment will be less if you come clean now. Often, the child does the right thing by admitting he/she/they have been slinging falsehoods.
But that's not how the outgoing president rolls. He doubles down on his dishonesty. Like a petulant toddler, he shouts, "No, you're the liar," even when there's recorded evidence that the opposite of his words is fact. He knows that if he says something enough times or loud enough of with enough emphasis, people will start to believe him because the idea of dishonesty is still floating around, where he started its swirling...and it's still swirling in the zeitgeist because he keeps putting it there.
I've been thinking about this organized plan of disinformation for months, but I only recently found out that there's a name for it: the Liar's Dividend. I was listening to a podcast about something else entirely when I came across this concept, which might come from law professors Robert Chesney and Danielle Citron, as discussed in this great article from The Guardian.
I guess my question is how do we break the cycle created by the Liar's Dividend? Once the tactic of dishonesty is available to people by claiming others as false, how can we stop the lying? Here's where I should have a smart answer, but I don't. Instead, I ask you to please answer me in the comments. Of course, if your answer is false, you can always call me the liar. It works.