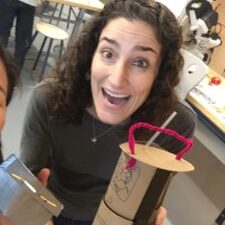 This photo shows how excited I get when one of two things happens.
Either you just looked at my website and joined my mailing list, or my birthday buddy gave me a fake water bottle that will help me carry cookies and sparkly things.
Longer Bio
I grew up in downtown Chicago, and had the privilege of attending many amazing schools. At Laurance Armour Day School, I learned to share. At Near North Montessori, I learned to solve problems. At Francis W. Parker, I learned to ask questions. At Amherst College, I learned to take care of myself. At Harvard University Graduate School of Education, I learned to follow my curiosity all the way to the moon. At Middlebury College Bread Loaf School of English, I learned to dive into literature. At Southern New Hampshire University, I learned to deliver the promises of my genres, romance and YA.
While I still learn new lessons and write every day, I also teach high-school English, walk a 110-pound Bernedoodle named after a hockey goalie (from not my team -- Go Blackhawks!), listen to podcasts on writing and science and economics, play old-lady ice hockey with the Salisbury Stingers, knit infinity scarves, eat anything with caramel rather than chocolate, mentor a Penn Teaching Fellow, enjoy studying grammar, post #hotchkiss365 photos on Instagram and FaceBook, and love my husband and two daughters. In my writing, I hope to bring the boarding school world alive with an insider's understanding of the setting and nuanced characters.
I have four books in progress, two YA novels called Jordan Crossed and Mac Daddy, a romance called You Had Me at Synecdoche and the romance novel's sequel. You can read more about them on my Writing page.
Thank you so much for being part of this community. If you have any questions about any of the topics above, please feel free to ask by clicking this link. I'll do my best to answer.
JOIN MY MAILING LIST HERE
IF YOU JOIN MY MAILING LIST, I WILL
Let you know when I publish/post something new, and
Keep you in the running for any giveaways I organize.
IF YOU JOIN MY MAILING LIST, I WILL NOT
Give your name/email address to any person, group, or organization, or
Send you anything I wouldn't be excited to receive, or
Overload your inbox. (You might get a few "Do you really want to be here?" messages in the first few days. After that, I'll stick to one email per week.)