I've heard that Olympic athletes who win silver medals are generally the least happy of everyone who makes it to the games.
People who win gold: I'm the best in the world.
People who win bronze: I got a medal!
All of the other people: I made it to the Olympics!
People who win silver don't notice all the people who didn't get to go to the games or the person who came in third; instead, the people who win silver question why they didn't win.
What could I have done differently during the event to become the top dog?
How should I have trained more efficiently/effectively?
What did that person who won gold do better?
How could I have gotten one more point/one moment faster/etc?
How did I let my whole country down?
(and the ever popular among the mean) Why was I the first loser?
So why, you might ask (especially if you didn't read the words in the photo below yet), would today's post advocate for picking second best?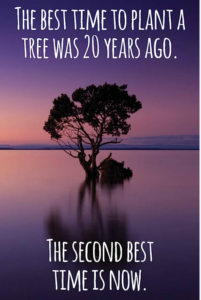 The only way to make the future better is to acknowledge a few facts:
We can't change the past. We can make choices in the present that affect the future.
We can't control other people's actions. We can suggest/plead, but others will do what they do.
Most big changes don't happen immediately. If we want to create big changes, we have to take little, consistent steps.
Setbacks happen. Missteps don't always reveal themselves in real time. Once we realize/acknowledge that we are heading in an unhelpful direction, we've already moved that way. At that moment, we need to remember the first bullet on this list because those bad choices are in the past. From here, we can try to make better choices.
So if we think about that silver-medal winning athlete again, I ask how many of the four facts above is his/her/their view denying? Maybe all of them. That race is over. Enjoy the hardware and move on.
And for the rest of us, life moves forward. If we want to eat in ways that better nourish our bodies, move to gain strength or flexibility or to reduce pain, be better at our jobs or hobbies, etc, we need to pick the second best time to start changing those goals into realities. We don't need to wait until Monday, a New Year's resolution, our birthdays, our next jobs, etc. Instead, we should start now. And when things run amok, we should start now, again. And again.
What do you think about picking the second best time? Please share your thoughts or stories in the comments.