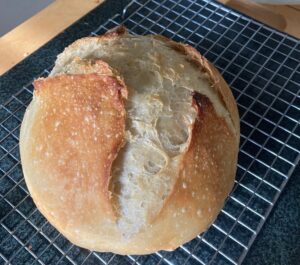 When I asked my husband for a Dutch oven for my birthday last summer, he thought he was heading into a trap in which whatever he did would make him a bad husband. If he didn't get what I requested, he wasn't listening to me. If he gave it to me, he was filling a sexist stereotype of buying a housekeeping product for his wife as a "gift." I'm not a trap-setting kind of person. I explained to him exactly why I wanted the kitchen tool. He wasn't supposed to buy the bread-making pan so that I could bake bread for him. I was asking for the device so that he could make bread for me.
He gave me the pan in August and has baked our family a loaf of bread every Sunday since. (Yes, I have a gem of a husband. And also, yes, we're gluttons for gluten.) After each week of classes, I eagerly anticipate our rest-day treat, with its crunchy crust and chewy dough I like to eat with caramel sauce or melted butter or, oh any which way.
He never complains about making the bread. In fact, if you ask him about it, he'll tell you that the recipe is ridiculously easy. Still, at some point this fall, I had him teach me the technique he's mastered. It's not that I don't love that he makes bread for us but that I know the importance of learning to do things for myself. I don't ever plan on living without him--we promised to outlive each other, so we've got that covered--but I see a lot of downsides to assuming he's always going to bake me bread.
Being too dependent could leave me in a bad place.
Future performance doesn't always align with past patterns.
If I learn how to do something, I can give that gift to him and others.
When we both have a skill, we can enjoy twice as much from our efforts.
Of course, all of these lessons apply to the bread and to so much more.
What metaphorical bread have you learned how to bake for yourself and others? Also, do you have a literal favorite Dutch oven recipe you want to share?