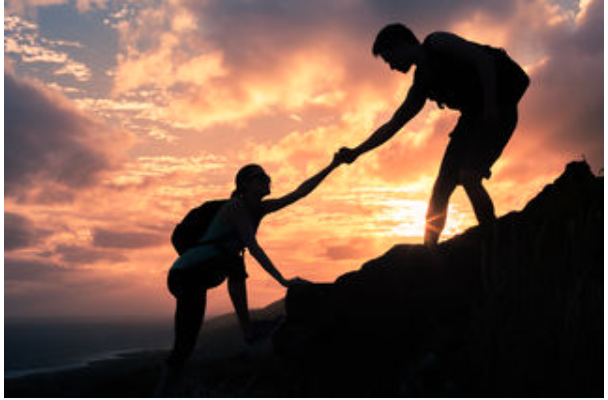 I screen-shot the above from an article in Psychology Today about asking for help. I like that in the image, it's not clear if the person on the top also had help or if the person on the bottom couldn't manage the climb alone, but it's clear that the person above is helping.
Over the summer, I got a distressing email about a student at my school. Without giving any identifying information, I can say that the student's guardian threatened to use the financial aid process to make it impossible for the student to return to the school this year. When I got the email, I had been in my new role as class dean for only a couple weeks and had no idea how to help. I asked the student for permission to share some information with adults on campus who know more about the financial aid process than I do. With that approval, I emailed them and had an answer within hours. Yes, the school would work to assure this student's space on campus no matter what the guardian did. I could not have given that answer on my own. More important, this student would have spent the rest of the summer worrying about the situation had the student not been brave enough to ask me for help.
It's true that asking for help is scary. In order to get others to help us, we have to show them all of the weaknesses and vulnerabilities we try to keep hidden. However, if we consistently present a strong front, others won't know how to help us.
And the kicker is that we're all stronger with help. We all have infinite weaknesses and vulnerabilities. We all need help.
I took on this job as a dean knowing that it'd be a stretch for me. One of the first things I did to help assure my success is that I contacted the class presidents. (Hi, PH and NB!) I shared some of my ideas and goals with them and asked them for help. They came up with a list of great adults to include in our work. (Hi, SS, CHF, LD, KH, DK, KF, and AF!) Now that I'm on the job, I have so many questions and have gotten tons of assistance from the team in the Deans Wing. (Thanks, CC, AJ, E"L"B!) By increasing the number of people looking out for the Class of 2025, we set ourselves up to achieve better outcomes for the group. By asking for help, we improve things for everyone.
At this school, we even have a rule called "Seeking Help." If a student gets caught by a teacher breaking a major school rule, the student will get into disciplinary trouble; however, if the same student or another on his/her/their behalf finds an adult to ask for help, the negative consequences lessen. By encouraging students to seek help, we hope to keep them safe and allow them to try to make up for whatever bad choices they've made.
We also have great resources such as the Teaching and Learning Center (I love that the initials are the TLC, because who doesn't need some?) and the counseling department. (Both services are included in tuition.) These offices are here for the sole purpose of helping kids succeed here.
It's also important to think also about the flipside. We all have strengths and abilities, so we all have ways we can help others. One of the other class deans (Hi, MC!) has a poster in her office:
Ten Things That Require Zero Talent
being on time
work ethic
effort
body language
energy
attitude
passion
being coachable
doing extra
being prepared
Of course, we can add many more ways we can do better. I was thinking about the corollary ideas of the free ways we can help others. We can all do the following:
listen
offer hugs
find and share resources (people, books, sites) that know more than we do on the relevant topics
keep thinking about the issues
smile
How have you felt when you've asked for help? What have you been able to accomplish after seeking advice or assistance that you wouldn't have been able to do on your own? Please share any thoughts or advice you want in the comments.