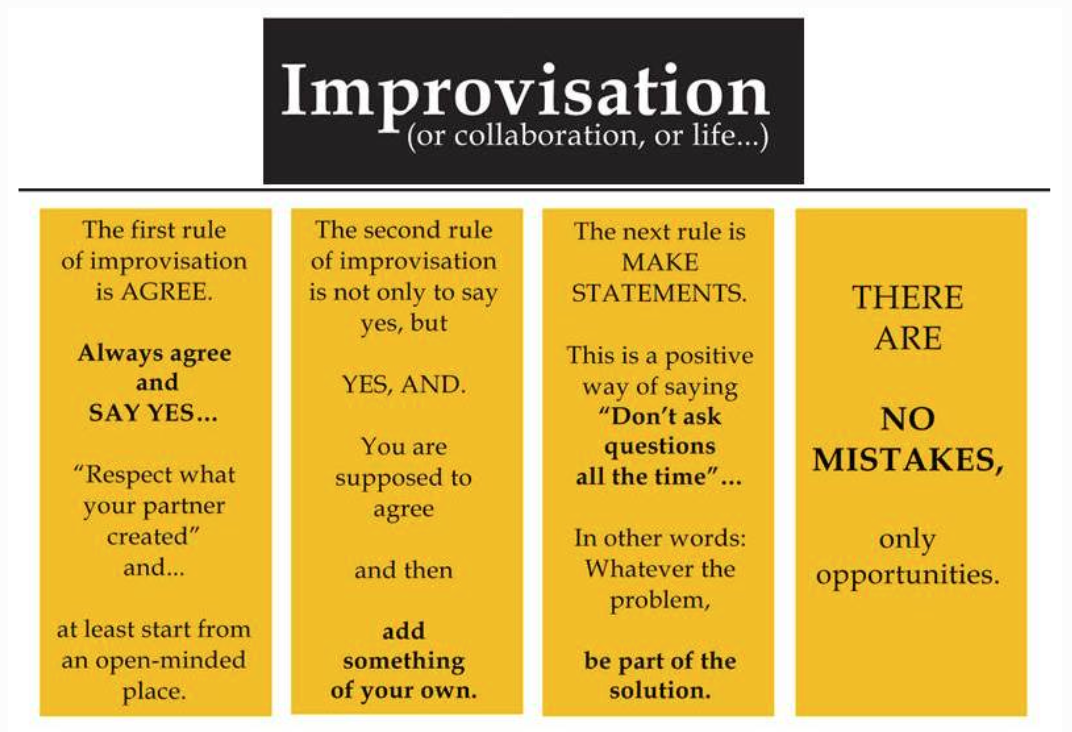 I'm not the first person to realize that the rules for improvisational theater work well as rules for life. I got the image above from the Rep Man website, which will happily sell you this poster.
I don't do improvisational theater, but I've been thinking about what a great rule for life "yes, and" is. It has, as you can see, two parts, both of which help us work forward from what exists.
Like actors in a scene with other characters and audience participation, we can't control much of what happens around and to us.  We all face situations that aren't of our making. When someone says something or does something, we can't undo or unsay it. We have to accept that everything that has happened has gotten us to the situation we face. I don't have to appreciate every aspect of the world that has occurred up until this moment, but I can't deny what has come before. The past (while open to infinite interpretations of what things mean) is immutable. My only smart/sane reaction has to be to accept that, to say, "Yes, that's how things are now."
From this moment, I have many options of how to forge ahead. Even if I don't like the paths started in the past (many -ism's come to mind), I can't deny their existence. Instead, I need to go with an "and." I add my new idea as a step to figure out how to make the next part better.  As the rules above note, I have to "be part of the solution."
Can you think of times in your life when you wanted to say, "no, but" or "yes, but" or "no, and," but instead you went with "yes, and"? How did taking that approach help you move forward? Please share any stories or ideas in the comments.