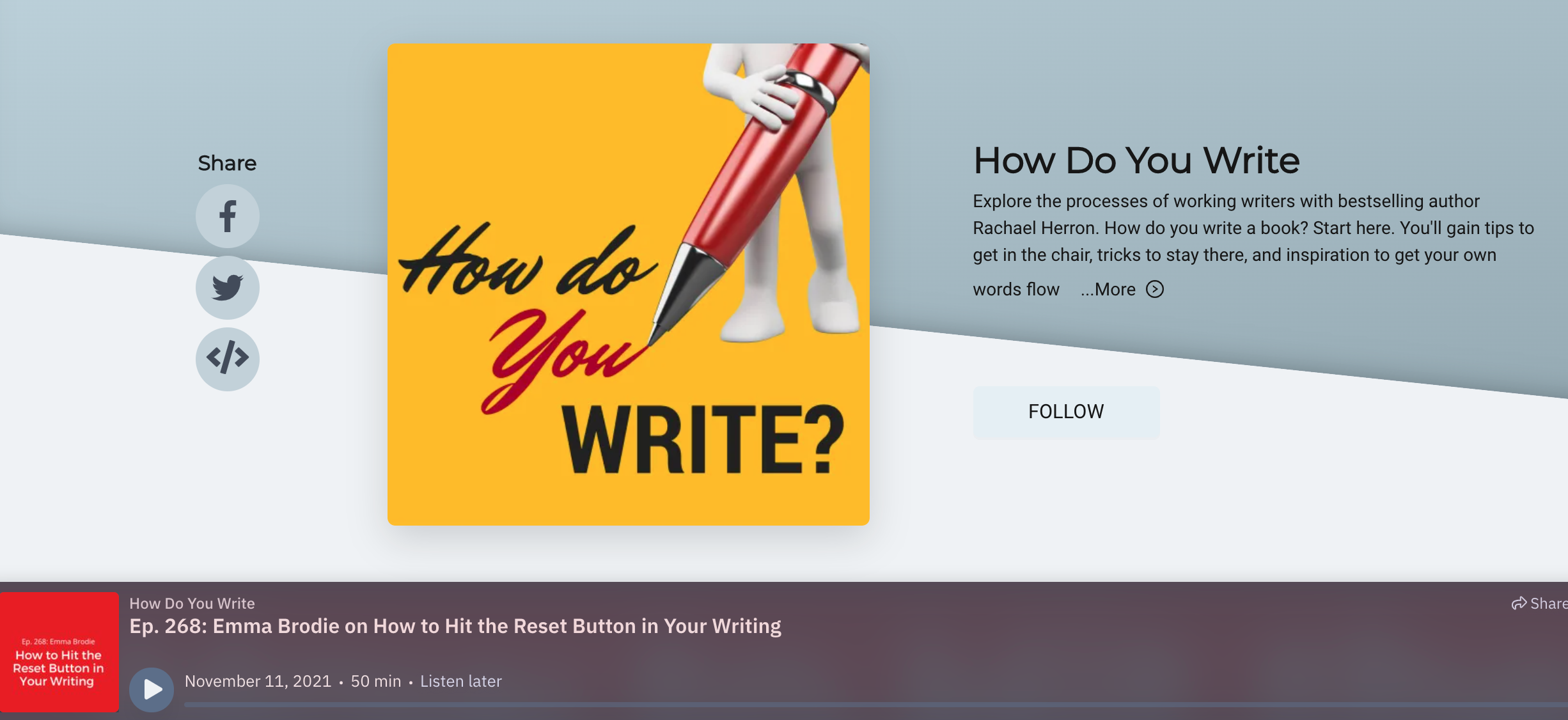 The screenshot above isn't a live link because I'm not that technologically advanced, but here are three actual links to sites that will allow you to listen to the relevant podcast, How Do You Write? (episode 268):
If you've been reading my blog since the summer, you know how ebullient I am about my friend/former student Emma Brodie and the success of her debut novel, Songs in Ursa Major. I was so excited when it came out that I contacted one of my favorite podcast hosts, Rachael Herron, to suggest that she interview Emma on her show. Obviously, that happened, and I hope you'll listen to the episode. (Listen to the very end to hear my special shout out!)
In the classic musical, Fiddler on the Roof, the single characters call on Yente to set them up in romantic partnerships. While Yente in Yiddish refers to an old gossipy woman (something I'm trying not to become, but that's probably a different Wednesday's post) and shadchanit means matchmaker, I'm confident in saying that I played the part, from the play, of Yente, the matchmaker, without having to be a yente, old gossiping woman.
In my eyes, there's no downside to playing the part of a matchmaker, but there are a lot of upsides:
I helped Rachael discover a great book and find an author who gave her a terrific interview with sound advice for writers.
I helped Emma get the word out about her book, which obviously everyone who likes music or books or the 60s/70s or strong women characters should buy and read (and give as holiday gifts to friends and family).
Having Emma on the podcast will help all of Rachael's listeners to learn good writing ideas and to gain inspiration.
And though I didn't know it at the time, I got my name said on one of my favorite podcasts.
That's a win-win-win-win.
I haven't had as much success with romantic matchmaking, though I can't help myself from thinking about which single people I know might enjoy time together. I like to matchmake food I eat, as many items taste better in combination -- nuts and breakfast cereal, for example. I also love trying to match students with books they might love to read, as I don't believe anyone in the world doesn't love reading; some people just haven't found the right books yet, and I'm ready to play matchmaker.
Are there other useful, helpful ways you like to pair up great with great? Please share any ideas in the comments. And as Herron says (more or less -- okay, maybe more less than more) on her show, "I'm keeping this episode short, so you can get back to matchmaking!"