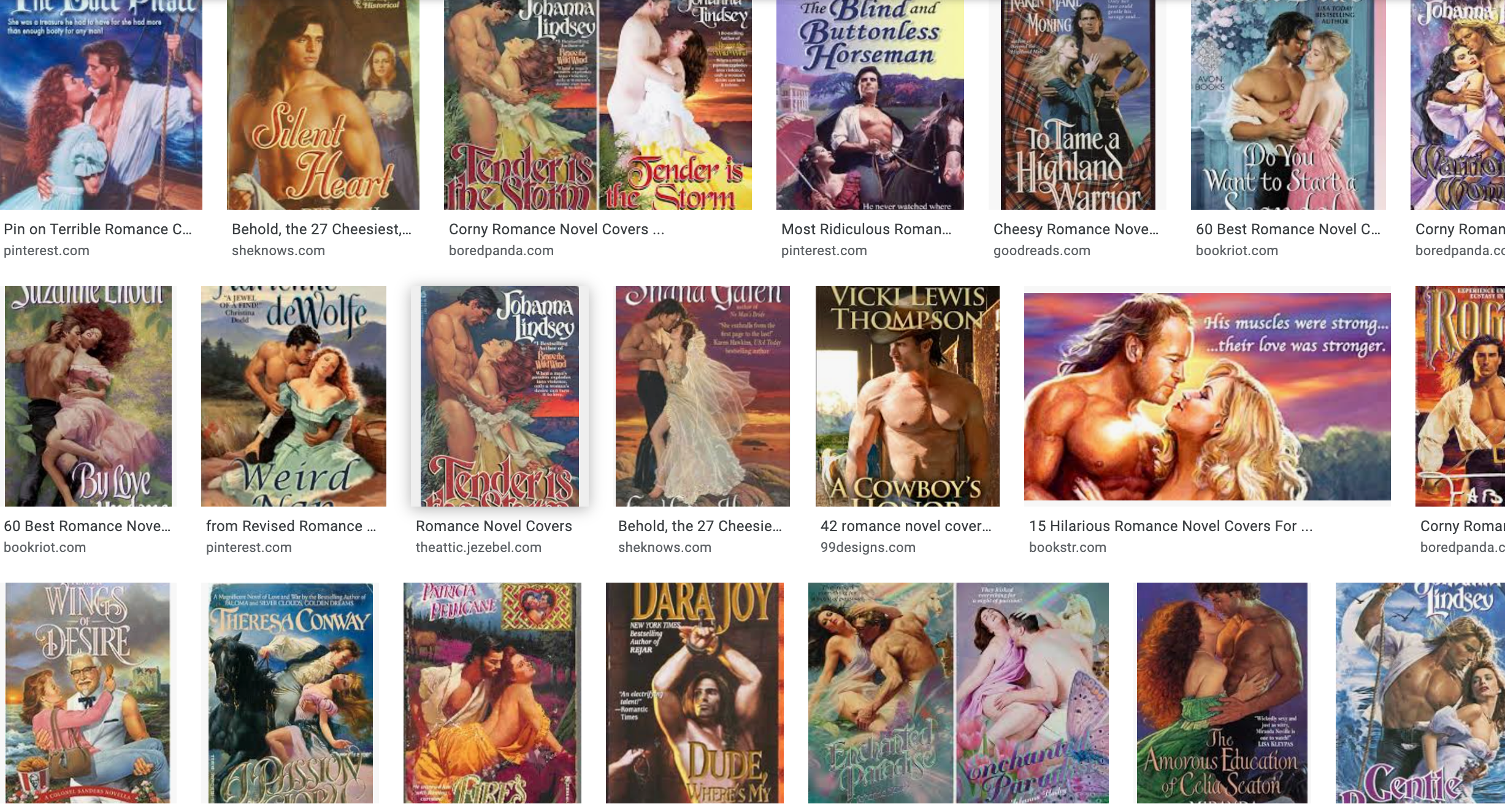 I've pasted the Google image search results for "cheesy romance novel covers" above. Notice the one in the bottom left, where Colonel Sanders stars in Wings of Desire. I wonder, why not go all the way to "hot wings and juicy thighs of desire"? I'd have to read the vegetarian version, but I Want Tofurky You might not make it past the ethics board. And I've already lost the thread. Back to it.
I have spent most of my life both loving reading romance novels and feeling shame about my habit. I've already written about owning up to my desire (You may go back to read post 104. Why I'm Done with Guilty Pleasures, but please return.), so now I'm going to try to convince you to pick up a romance novel or fifty. In fact, as a corollary to my resolution to take pride in reading romance novels, I've decided to use one of my Why Wednesday posts per month to highlight a feature of romance novels in general, share a novel I enjoyed recently, or spotlight a worthy author. This first post gets at some of the reasons I love the genre.
First, we all need to escape sometimes. If nothing else, 2020 showed us that we don't know what kinds of obstacles life will throw into our paths. For a full year, people have had to stay bunkered down in their homes, which aren't always safe places, and we all need to find ways to trick ourselves into not feeling stuck. I saw a joke that at the end of the safer-at-home time, every person will be a hunk, a chunk, a drunk, or a monk. At the least, we all need to find ways out of the funk, and some options are healthier than others. Yes, we can do every new online workout, learn to make sourdough bread, gulp our way to the dregs, binge Bridgerton on repeat, or read about Buddhism, but for how much of each day? I posit that romance novels offer endless hours of a healthy alternative to alcohol-drinking, candy-munching, carb-snarfing, and other consuming habits. The books offer time away from the pernicious thoughts we might have and from the people with whom we've spent every waking minute.
Second, life doesn't come with guarantees, but romance novels do. Many of the sucky aspects of real life aren't going to disappear any time soon. People are getting sick and dying. Our society needs to change in ways that can't happen overnight. Relationships don't all endure. Not all books we've written will get published (alas). Such is real life. Romance novels aren't real life. The first rule of romance novels is that we don't talk about romance novels...Oh, wait, that's a different set of rules. The real first and second rules of romance novels are that we get an HEA (or a least an HFN). The novel's two protagonists will end in a Happily Ever After or a Happily for Now. We don't know how the author will take us from this mess to that bliss, but we know with certainty that someday, our kiss will come.
Third, romance novels offer a fun ride. We might know the ending and the many tropes of romance, but every book plays them in different ways. In the best books, the themes present themselves in unexpected ways. While enemies-to-friends might be clichéd in general, consider the difference in fact between versions, Austen's Pride and Prejudice and Shakespeare's Taming of the Shrew. Those aren't the same story, just the same trope. Can you think of other variations on the theme?
Fourth, romance novels offer fun series. I often read a stand-alone book and want to know more about the secondary characters. With many romance novels I get to find out because they come in series. (Who else is waiting for seasons two through seven of Bridgerton–based on the Julia Quinn, Hotchkiss '87, novels?) In romance series, we experience one couple's HEA and then get to see them living their together-forever life in the next couple's story. I recently read about an entire hockey team's journey from immature jerks to worthy lovers. (If you're interested, the books were by Kendall Ryan. Racy.) In the later books, the earlier couples are already getting married and having babies. The follow-ups offer reassurance that good can last.
Fifth, reading romance offers a glimpse into the literary landscape. Romance novels sell more, way more in fact, than any other genre. If you want to know what people are reading, pick up a romance novel. Without romance novels, the publishing industry might collapse. Not kidding.
And if you like the books you read, please tell me about them. Starting next month, I'll shine a spotlight on a romance novel or romance author. Eventually, I hope to share news about my own work, but for now, I'll tell you about some of the books I'm reading and why I'm enjoying them. Do you have a romance novel to recommend? Please share your ideas in the comments or write a guest post. Alternately, if you want me to recommend a book, please let me know what interests you; I'll see what I can come up with.