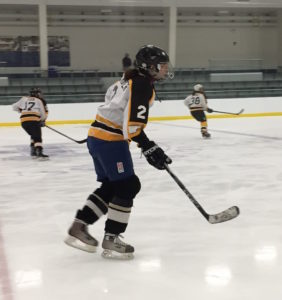 As a little kid, I took figure-skating lessons. While I never mastered the triple lutz, I could own a toe loop. I got to be a sugar plum fairy (one of twenty) in Nutcracker on Ice. Mostly, the lessons provided my parents a night off after they dropped my sister and me off at my grandmother's house.
In high school, I lived for basketball. Let's be clear, I grew up in Chicago, a mile from what was then called Chicago Stadium, in the age of Michael. Plus, hoops was the only winter sport option at my school.
I married an ice-hockey player and moved to work at a school with a long history of strong teams, so I bought my first pair of no-toe-pick skates in 1997 when we moved here. For a while, I participated in the co-ed faculty pick-up games, but then a group of local woman formed the Salisbury Stingers.
I have so much fun playing with this group of strong, resilient women, but I most appreciate the team motto, "It's not about the hockey."
Together, we've been through it: teammates' deaths, children's deaths, sick spouses, spouses incarcerated. But we've also been through it: births, parties, children's graduations, grandchildren, kindness, hope, love.
While I'll never clear the puck out of my zone like Duncan Keith (If you know him, please let him know he's my hockey idol.), I've gotten so much out of sticking with the sport.
A short list:
I understand better what my students feel when they can't do things they way they envision them.
I know how it feels to struggle with the same issues for years without mastering them.
I feel what it's like to try my hardest and not win.
I appreciate the thrill of working hard to accomplish a goal.
I get to enjoy the benefits of team.
If you don't ever spend time doing something you're not great at, I highly recommend giving not-greatness a try. And if you're ever free at 6:00am on a Winter Wednesday, feel free to join us on the ice (right after you read my "Why I" Wednesday post).
by Carita Gardiner