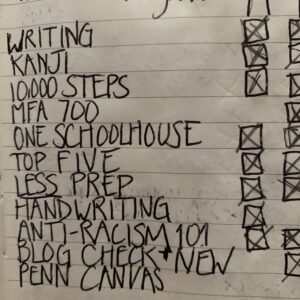 I'm still a paper calendar user. I know, not very 2020 of me, but facts are facts (and why would anyone want to be 2020?). For as long as I can remember, I've used a calendar that provides a two-inch by five-inch rectangle for each day's events. This year, I decided to live on the wild side. I bought a calendar that has each day's rectangles crammed into the left page and gives me blank lines on the right. On these blank lines, starting in April, I decided to create a grid of to-do checkboxes for myself.
I know there are lots of people out there (Carla and Emily, Kait, Rebekah, are you reading this? I'm thinking of you.) who create beautiful bullet journals for themselves, but I'm a checklist girl through-and-through.
There's so much about life that is beyond my direct control. As much as I would love to, on my own, I can't
decide who gets to run our country (but I will vote and you should, too!);
end and redress racism, sexism, anti-Semitism, homophobia, transphobia, xenophobia, or any other versions of hatred and injustice that plague our world;
backtrack climate change; or even
make candy healthy.
But on my own, I can still get a lot done if I make a choice to set some goals and plug away at them in an organized way. I've found, that if I tackle the checkboxes when I get up (after exercising and walking Tuukka), I still have plenty of time in my day to read romance novels, take socially distanced walks with friends, watch plenty of Netflix, and bake decadent desserts.
Of course, I hope to figure out ways to address some of that list above, but I'll need help with those. For that, I ask you, friends, to join me. Together, united checklist-loving people and checklist-hating people, we can work on those bigger issues.
We can vote.
We can donate.
We can talk with people who'll listen and keep trying with those who won't.
We can change our habits and demand changed habits from the makers of products we buy.
For the candy one, I'm not sure what steps to take, but I'm eager to see what you come up with.
What can you control? What methods have you used to take control? If you don't like checkboxes, what do you do to stick to your intentions? And how do you work on the bigger issues that don't fit into a single box? Please share your thoughts in the comments.
NOTE: This is the first time I've edited an already published post, but I have to add a resource that didn't exist when I put my ode to checklists into the world. I often hear podcasts and get ideas for my Why Wednesdays, but this morning I heard a podcast that corroborated and elaborated on the post above. One of my favorite shows, Choiceology, connects decision-making, psychology, and economics. This week, in A Successful Failure (linked here), the episode explains why checklists are such a game-changer. If you can spare forty minutes, I highly recommend that you listed to the link.