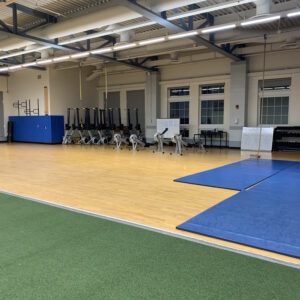 I'm writing this post during my Spring Break, a two-week vacation that I just heard yesterday has become a three-week vacation for the students. The school will follow our time off with online classes for at least two weeks. We'll have to reassess what's going to happen after the social isolation, to see if Covid-19 is under control or still spreading too fast to control or predict.
Today's a Friday. Every Friday, I join a dedicated group of women who completes a HIIT workout at our school's gym. Through a series of miscommunications, I ended up completing the workout entirely on my own. I didn't love the lack of camaraderie, but I'm so lucky to have access to this beautiful and well stocked space.
I'm also lucky to be healthy. The world feels like a very strange place right now, but I don't fundamentally feel as though I'm in any danger here in the rural corner of Connecticut. I can, more or less, go about my business without coming into contact with a lot of people...and that's exactly what I plan to do until the danger that I pose, more as a carrier of the virus than as its victim, passes.
All this to say, I'm going to try to avoid people for a while. I hope that by the time this entry posts, the threat of this new disease has passed. If it hasn't yet become yesterday's news, I hope you, too, will try to avoid people for a while.
What are your favorite stuck-in-the-house activities? How will you keep yourself and your family safe in this scary time? Please feel free to write about your pandemic plans in the comments.