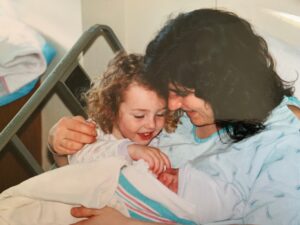 Okay, so this photo probably isn't fair. Of course, I felt gratitude on the day my older daughter met my younger daughter. (This isn't the day my younger daughter was born because she came at 9:44 pm, but it's certainly within twenty-four hours of her birth. This is all beside the point.) On this day, my family became complete, together, alive, and healthy. (My husband, who's terrific, took this picture, so he's part of the moment even if you can't see him.) I get it: this photograph shows an extreme day of gratitude.
But with Thanksgiving tomorrow, I like to remind myself that I can feel (almost) this much gratitude every day. The fact that I'm able to sit here writing posts that almost nobody will ever read shows the extreme privilege of my life -- I have a job that provides me with this computer, free time on Sundays, a warm house in which to live, food, and a salary that allows me to (1) let my daughter participate fully in her semester abroad program in Copenhagen [If you're thinking about doing a semester away and/or your kids want to, let me recommend D.I.S. Copenhagen -- it is such a well run, wonderful program!] and (2) visit her there. When this post goes live, I'll be in Copenhagen with my family -- including my sister and her partner -- which is even more I have to feel grateful about.
I keep getting off track. Or maybe it's all the same track. The point works. There are so many aspects of my life for which I'm grateful. I hope you too can't even begin to count or organize the many ways in which you feel gratitude. Enjoy them today, tomorrow, and all of the days.
If you want to write some of them in the comments, I'd love to read your thoughts! (If you celebrate Thanksgiving, I hope you have a wonderful one...and if you don't celebrate, then I hope you have a wonderful day!)