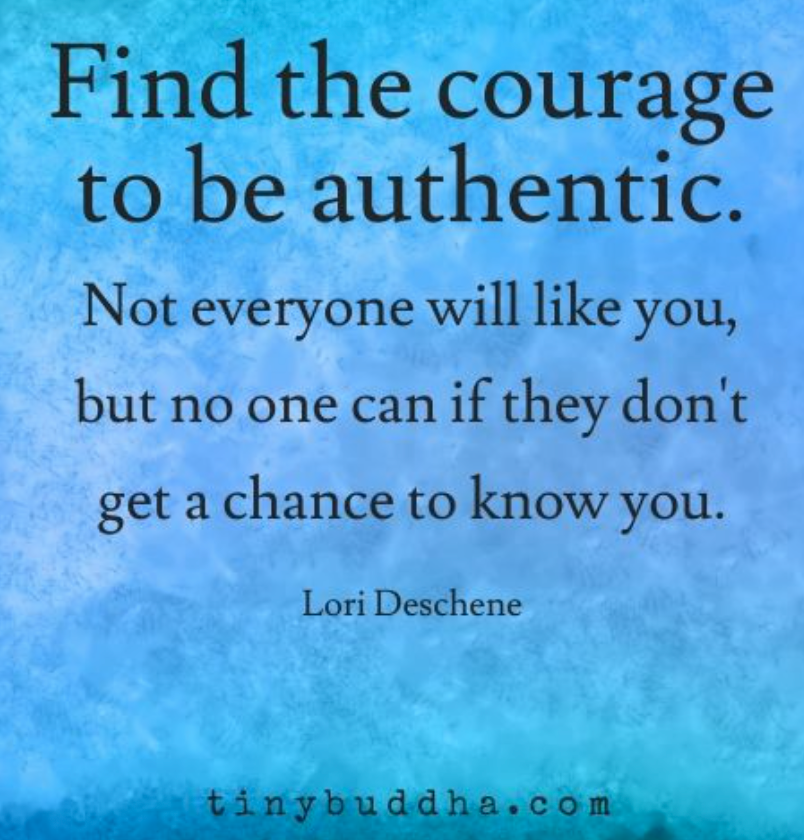 [Every year, I enjoy meeting English teachers at the College Board's AP reading. Earlier this month, I got to read essays about an octopus and a baby with English teacher and author, David Berger. I hope you will (1) look at his author website, (2) check out his cool merch website, (3) buy his books, and (4) read the great post he wrote, in its entirety and uninterrupted by me below.]
In this modern world, it's too easy to be someone we're not. Every social media platform asks us to fill out a profile, and each time, we can choose a different username, profile picture, or even a different bio to encompass who we plan to be on said platform. We're almost encouraged to diversify our personalities. While it's true that different environments demand different versions of ourselves (e.g. work vs. personal), it's also true that the more authentic we are, the more we affect those who encounter us in a genuine way.
Authenticity isn't easy. It means being exactly who you honestly are all the time, to everyone, and in any circumstance. It means being the real "you" without restraint, despite whatever judgment may follow. Living as an honest version of ourselves is the easiest way to remain true to our core values and beliefs. It's also the easiest way to remain consistent. Consistency doesn't have to be a bad thing. It's not boring. It's not eye-rolling. Consistency provides reliability. Those who engage with the authentic "us" choose to because they connect with that real person. Making connections that last means sharing parts of ourselves that are vulnerable. The raw, unadorned selves we see in others become the vehicle through which we see those same raw and unadorned aspects in ourselves.
It's risky being genuine. Not conforming to what others want means hoping that others can identify with what they see in us, either experientially or philosophically—or both. So many people can be true to themselves only when they are alone because there's no external judgment. Some wear different clothes. Others carry themselves in a way that feels true yet would be ridiculed by those in the mainstream. Being authentic means embracing and exploring parts of yourself that bring out your joy.
Sometimes, we hide. It's part of human nature to keep certain aspects of ourselves free from public view. We have personas that fit individual aspects, be it work, religion, school, or even family. But it's also the nature of humans to evolve and become more than what they started out to be. If you live your authentic life at work, at church, at school, with family and friends, you know you have put forth someone who embraces the joy of expression and experience. This freedom means you are unencumbered by the trappings of disguise and can open up opportunities.
This authenticity comes at a price, however. Not everyone is ready for that "you," and you have to be willing to shed those around you who don't appreciate or accept the authentic you. Living a "what-you-see-is-what-you-get" life means you make apologies to no one, but it also means you have drawn the line with what you will expect from others as well. One can't live authentically and accept others' falsehoods. That would be disingenuous to the idea of living as one's true self.
That being said, there is a loophole. We are on a planet of diverse people whose lived experiences and understandings may prevent them from being their truest selves. There are people we allow into our lives whose disguises or masks are necessary for them because to doff them would imperil them. People have to come to authenticity in their own time and in their own way. We acknowledge that some in our circle must be hidden. We respect their choice. Acceptance and respect for others are part of living an authentic life.
Consider where you are on your own path and to what extent you live authentically. Are you okay with where you are? Would you want to be more authentic? Less? Has living authentically closed doors or opened them? Please share your thoughts in the comments.