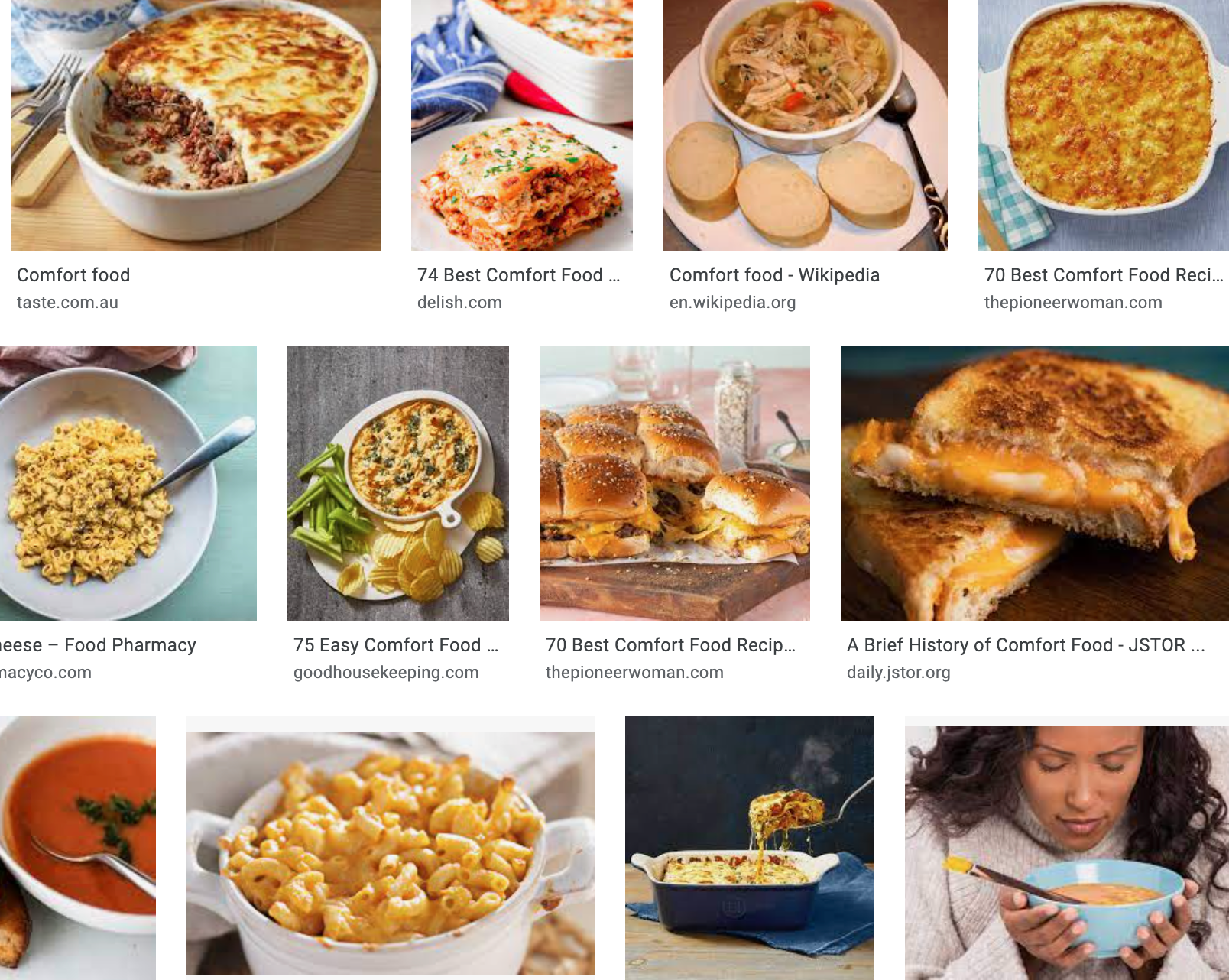 I don't know why I was surprised to see that an image search for "comfort food" came back with so many cheesy photos. Yum. I took a screenshot of part of the screen, which is the thumbnails you see above.
We had a guest speaker a few years ago at Hotchkiss, back when being a guest speaker meant showing up in person, who talked about why many teenagers will watch the same TV shows and movies over and over. Even though I forget everything I read and watch, her postulation that rewatching shows is like comfort food or a security blanket for many kids resonated with me. So much of what happens in life can surprise or scare us, so allowing ourselves to replay positive experiences provides a safe way to offset our fear of the unknown and unpleasant.
But since I don't like to rewatch and reread most of what I take in, I gravitate to the safety of tropes. I can start any romance novel knowing that I'll get my HEA (Happily Ever After), so I eliminate the possibility of disappointment and sadness. But one step better than that, the tropes of romance give me that "I've been here before" feeling even though I'm reading/watching something new. Here are some fun romance tropes:
waking up married
fake dating
friends-to-lovers
second-chance at love
enemies-to-lovers
stuck together
forbidden love
athlete or celebrity hero
grumpy with a heart of gold
You get the idea. While each of these tropes offers infinite plot possibilities, falling into them keeps the reader (me!) in a safe space.
Are there tropes you love in romance or other (gasp!) genres? What's your favorite? If you could always read within a genre's tropes OR always be totally surprised by what you read, which would you choose and why? Please share your ideas in the comments.