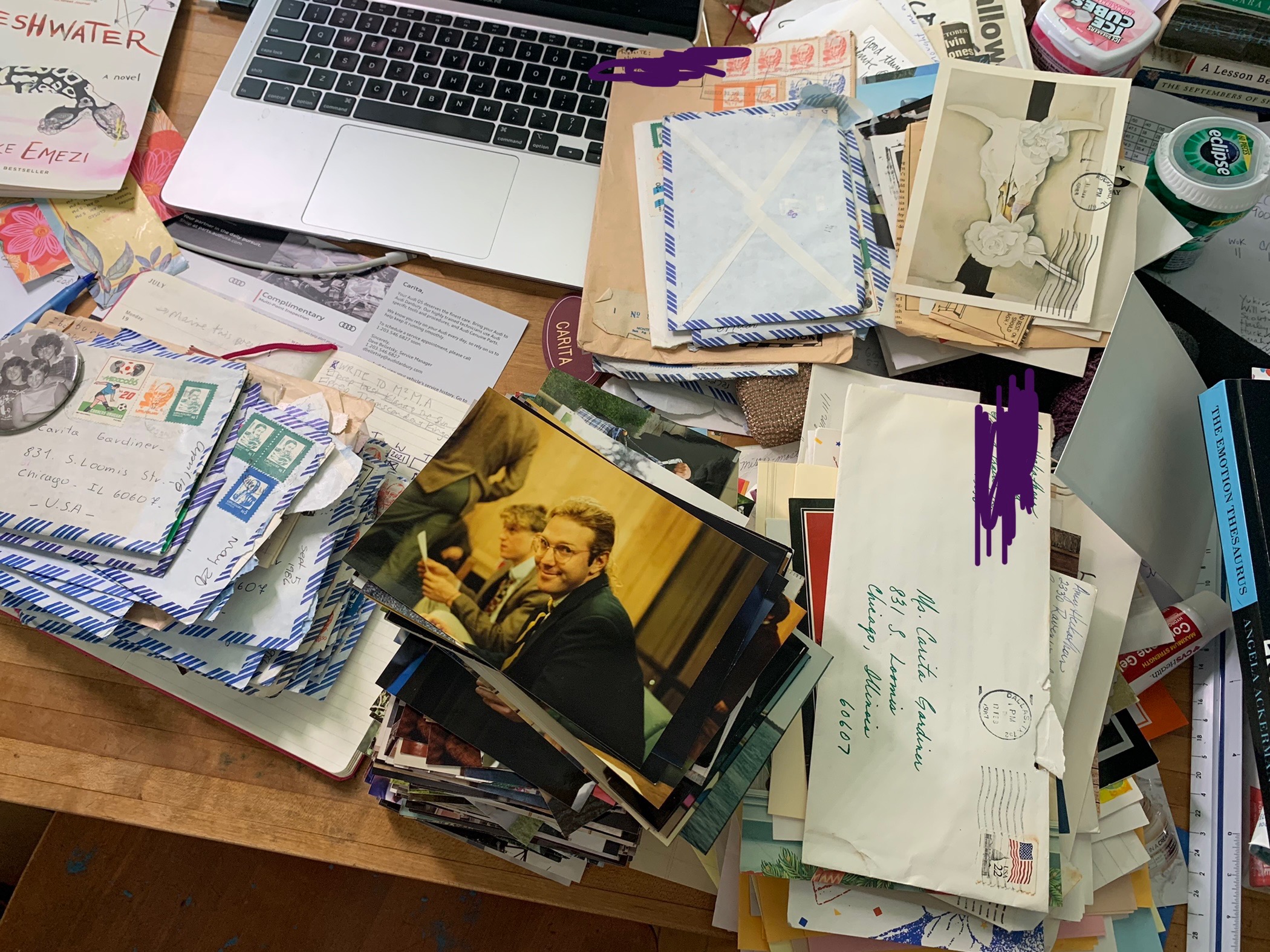 I recently drove (yes, by myself) to Chicago to retrieve some of my possessions that have been in my mother's house for decades. Among the items, I picked up a set of dishes left to me by my maternal grandmother, a plaque for the Amherst College championship basketball team I managed, family photos and photo albums from my youth, and three giant boxes of letters dated 1987-1995. Reading through the notes has been a joy but also a learning process. I'd like to share some of what I've realized.
First, I feel incredibly lucky to have had a lot of people in my life who consistently let me know they were thinking about me. My mother, father, stepmother, grandmother, Uruguayan AFS sister (KI), and high school friends (in particular, TvS, MM, ARK, NBB) were great correspondents during my entire time in college. They all wrote regularly, sharing their thoughts about what was going on in their lives and asking me about what I was up to. In college, my two roommates (LPdJP and DD) left me supportive notes and funny messages. Then, after graduation, I kept in touch with college friends (SC/JK, SP, and JJ) and friends from my first job (AS, FS, and J&AL) for years through the USPS. These letters engendered a surge of gratitude for the supportive family and friends I have.
Second, I'm amazed with how many of the letters begin with the apology, "I'm sorry it's taken me so long to write back to you," or the corollary, "I'm glad I finally got your letter." Reading the words now and seeing the volume of mail generated over time, I focus on the kindness in writing rather than the perceived slight of allowing time between notes. Better late than never is a cliché because it's true. I realize that any time I got a letter, I felt the effort that went into writing and sending it, whether I had written to that person a while ago or recently. There's no time limit on telling someone that he/she/they is/are on your mind.
Third, I've known that my Spanish language skills have atrophied, but I didn't realize how much. Several of my regular pen pals (HG most notably) wrote to me in Spanish. While I know I understood the words when the letters arrived, I no longer can read every word. If you want to keep knowledge, you have to practice it.

Fourth, I love reading letters from former students, but am reminded to think about those who don't write because they're following the "If you don't have anything nice to say, don't say anything" rule. The vast majority of kids who take the time to write do so either at their parents' urging or because they liked the class or my part in it. Reading those notes this summer helped refill my tank after what was a hard year (not just for me and not only pedagogically, but that too). On the flipside, I know that most of the kids who don't like my course or my teaching don't let me know. I did get to review one glorious note complaining about my teaching. One youngster who didn't sign the note wrote, "I know you said you 'don't want to spoon feed us,' but you are the teacher and that's your job, and that is what the students' parents pay the big bucks for." Well said, anonymous voice of the people! The missive's writer also gave me concrete suggestions to aid student learning. Alas, I wish more students, even anonymously, would make me better at doing this job. I'm glad to remember always to work toward improving.
Fifth, I shouldn't take photos that don't have people in them. Before everything was digital, I took photos on actual film and brought my photos to the pharmacy to have double prints made. (I always made doubles, so I could easily give away one of each. Now, I have two copies of every photo that came out horrible and one of the better ones.) Looking back, I see the scenery and can't remember why I thought I'd like to be able to look at that image again. I have photos of churches and Chinatowns in unknown cities, empty sports fields, close-ups of flowers and branches in summer and winter, and busy streets in neighborhoods to which I'm unlikely to return. I don't need those photos, but the photos of people are wonderful. It's so nice to see the faces. From now on, I'm not going to bother with the scenery -- if I need images of a place, that's what Google image searches were invented for.
Sixth, I don't need to keep the letters. I had such a great time reading everything over; then I sorted it into piles by correspondent and sent packets of letters back to the most prolific writers. While people have digital records of emails, I'm guessing most of my friends didn't save photocopies of their hand-written mail. I hope they have as much fun as I did reading their notes. My favorites involved people considering major life decisions (LP thinking about going to med school, even though that would mean completing a post-bac-pre-med program OR JK deciding that he wanted to become an environmental lawyer because he could make a difference) that I now know to have been made, completed, and successful. What a joy for my friends to get to read about their temporary angst from the vantage point of the present. I anticipate their receipt of these packages.
Seventh, and this one is clearly connected to the last one, I appreciated the reminder that the troubles of the present are just that, today's problems. While today has its own issues (in particular the last two years), today's issues won't all persist. I like the reminder that time passes and many of our stresses work themselves out. Another cliché that came to me while reading was that this too shall pass. I appreciate knowing that many of my concerns that seem big in the moment will minimize over time.
Do you save things? Have you taken the time to look through those mementos recently? Or do you read letters once and recycle them? I'd love to read your thoughts in the comments.