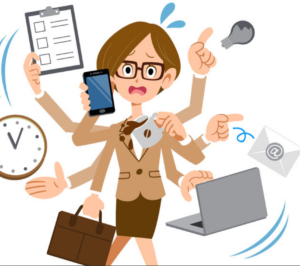 I took the photo above from a website called appreciation at work, in an article asking, "Are you too busy to learn how to overcome busyness?" I think the question and the image capture how many of us feel a lot of the time; if we don't do eight things at once, we'll never get through the to-do lists.
I learned years ago that speeding on the highway doesn't get you where you're going much earlier. If you don't believe me, I encourage you to do the math and/or read about how much time you save by driving above the legal limit. However, driving too fast does increase the likelihood of more serious accidents and of getting ticketed. Now, I realize that I should apply the same principle to other aspects of my life I want to hurry along.
For example, when my girls were little, I spent way too much time pushing them to move faster. I think their most common memories might be of me saying, "Time to go," or "Get moving." (I'm apologizing now. Sorry, A &E!) I have a friend, let's call her L, who never pushes her kids to move faster. She informs them, once and nicely, that it's almost time to go, and then she lets them work through whatever they're doing until they finish. My friend might show up to her next thing thirty seconds later than I would, but she arrives without having the unpleasant interactions caused by pushing. Nobody gets frazzled or annoyed.
This type of hurry-up interactions have been on my mind recently. When I have to transition quickly from one event to another or when I try to cram a quick errand between two other obligations, I need to remember that the person or people I'm talking or working with didn't cause my time crunch; I did. More important, making somebody feel as if I have my eye on what's next rather than on the person I'm talking with is rude.
Many people complain about how busy they are, but the complaints don't help get things done and they don't help the complainer or the listener to have a better day. No matter what's on my to-do list, I've been trying to project calm and to focus on making everyone I interact with feel as though I have as much time as necessary. This outlook change has helped me enjoy my time more and, I hope, helped those around me to enjoy the interactions more, too.
Do you want to talk? If so, I am NOT too busy for you. Do you want to share your thoughts in the comments?  If so, I not only have time to read them, but I promise to express my sincere gratitude in my reply.