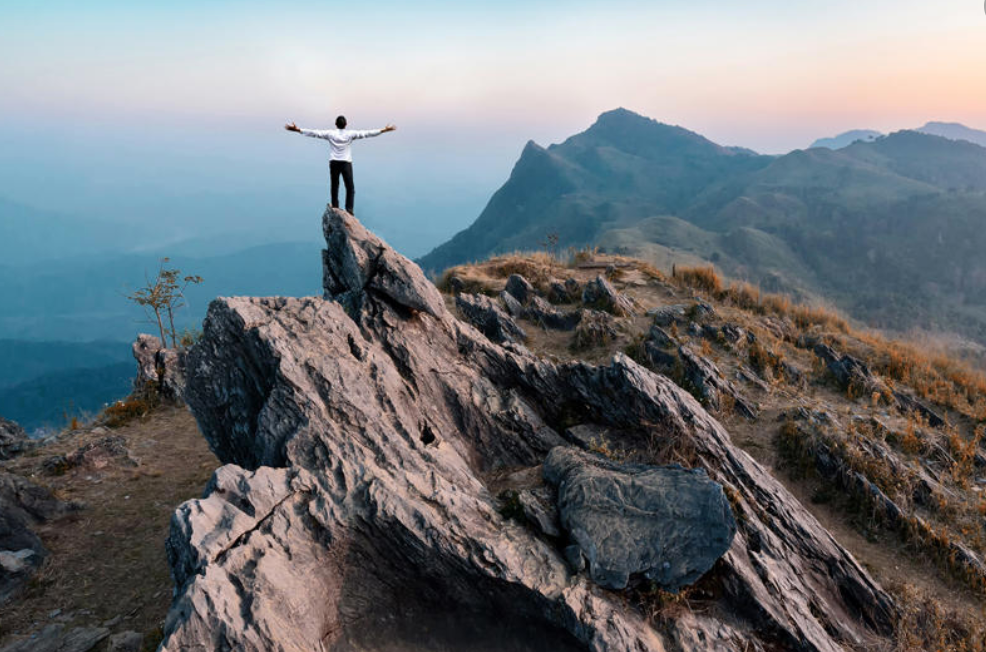 (I took the photo from the website of the National Institute of Standards and Technology, which I've linked in case you want to check it out.)
I know I've droned on about my love of Peloton workouts more than most people want, but since I still know everyone who reads the site, I'm hoping you'll bear with me as I start my essay with an idea that came from another workout. I'm thinking that because most of my days start with a workout, most of my posts do, too.
This morning, during a strength class, Matty Maggiacomo said that people should climb the mountain not so that others can see them at the top but so that they can see the view from the top of a mountain. When he said this line, I was far from climbing a mountain. In fact, I was just barely able to keep his pace while holding half as much weight as he did. Still, the words went in and rattled around and then stuck.
Working with teenagers provides frequent reminders that noone is looking at me; my looks matter to noone but me. I've taken the under-twenty-ones' complete lack of attention to my appearance as an opportunity to adorn myself in ways that make me happy. I wear sparkly shoes and eyeshadow because they make me smile, not because I'm under any delusions that people around me notice and/or care about my presentation.
All this to say, I would never do something more difficult than buying shoes with the goal that someone else would notice or care about my accomplishment. I absolutely would climb because I want to see the view from the top.
BUT, Matty Maggiacomo and others, the top isn't the only view that matters. If we wait until we're at the top of the proverbial mountain to enjoy what we're doing, we'll miss the delights the rest of the hike offers. Look to your left. Do you see a cool plant? Look right. Can you find a fungus or a weird rock? Can you identify that tree? Talk with the person climbing with you. Does she have something to say that makes you think? Can you smell the wintergreen? Does the dappled light below the tree canopy remind you of a particular moment in your childhood? Is your heart pumping harder than it usually does? Can you hear yourself breathing? Can you hear birds? Frogs? If you wait until you get to the top of the mountain to relish the hike, you're going to miss out on the joys of the hike itself. Besides, when you reach the summit, you might find fog or a loud group having a picnic. Don't save your enjoyment until the end because we don't know the ending of this story yet!
Certainly the events of 2020 have taught us to find joy where we can. If you decide to find pleasure at the end of a long journey or challenge or project, you might miss out on the fun ride that gets you to your destination. Climb the mountain, yes, but not only for the view, also for the climb itself. We can't predict what's ahead, but we can find ways to look at every second as the gift it is.
As they say on the late-night ads, but wait, there's more. I can think of several other reasons to climb the mountain:
to remind yourself that you can climb the next mountain you face;
to push your muscles and brain so that you can find taller mountains;
to challenge the idea that only a few, special, mountain-climbing people can climb mountains;
to have great stories to tell later; and
to know that you're a mountain climber when you want to be a mountain climber.
Can you think of other aspects of your life to which these ideas might apply? Do you have other reasons to climb the mountain? Please share them in the comments. And if Matty Maggiacomo is reading this, please know that I love your workouts. Thank you.