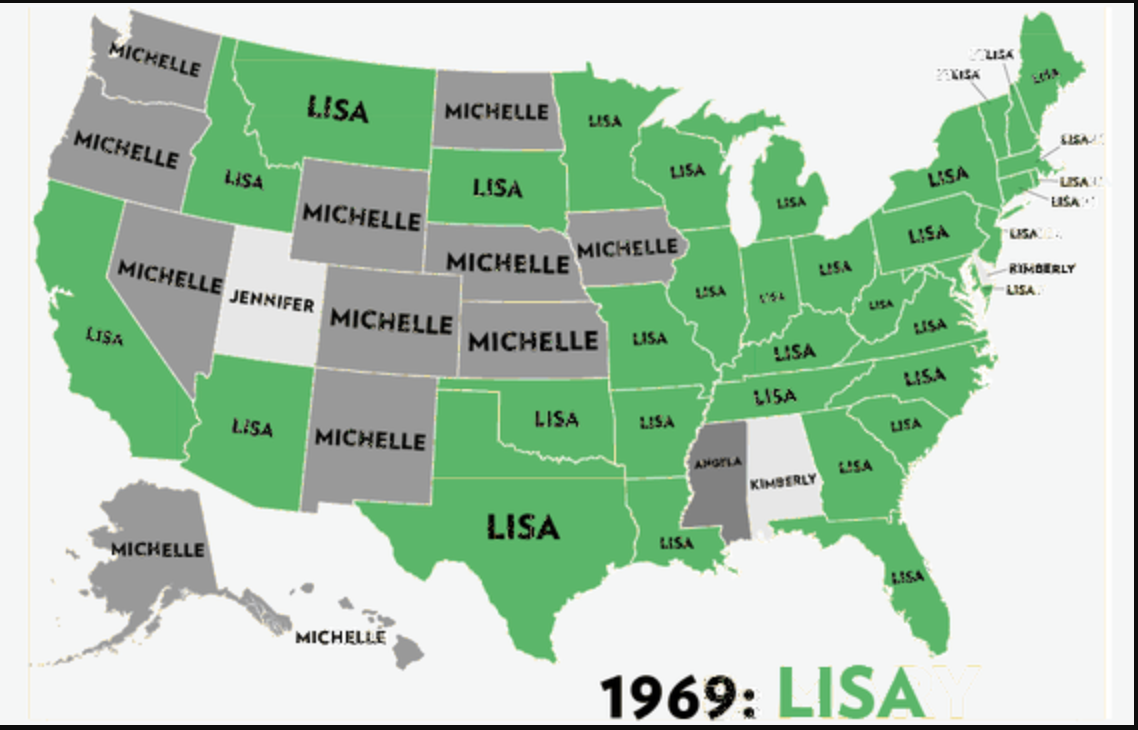 I found this cool GIF of the most common assigned-girl-at-birth baby names on The Atlantic's website. I was born in a year when the odds were pretty good that I'd become a Lisa, a Jennifer, or a Michelle. The Michelle part seems funny because I recently went to an event with two friends, both WAY younger than I am and both named Michelle (Hi, MR and MC!). Had my parents not been who they are, we could have been a travelling trio of Michelle's.
But my parents are who they are, and I've always been grateful for my unusual name. (Thanks, R and J!) I like both that it's unusual and what it means. As I used to have a sparkly t-shirt that announced, Carita means love.(As an aside, I think it's also fascinating that Lisa means God's promise, Michelle means Who Resembles God, and Jennifer means The Fair One. None of those makes much sense for me.) For my whole life, I've had a chicken-and-egg fascination with my name and the importance I place on love. Did having my name make me value love more, or would I have valued love more with any other name? Can't know.
For nearly ten years in a row shortly after I was born, Jennifer reigned dominant. (I know they're not all obsessed with beauty.) That's a lot of Jennifers, whereas I rarely meet another Carita. Most Jennifers with the traditional spelling probably don't have to explain their names or get asked about where their names come from, so I guess that's a plus side to having a common name.
I like learning what other people's names mean, too. My sister (Hi, V!) has always been a dive-right-into-things, full-of-vitality person, so it's always made total sense to me that her name means life. She was born in a year when all fifty states' most common names were Lisa.
My daughters were born in the years below, at times when, statistically speaking, I was likely to name them Emily, Madison, Taylor, Alexis, Hannah, or Emma. Emily, the front-runner both years, means rival, wily, or persuasive. Neither of my daughters would fit this meaning. Their names mean sweet-faced, graceful or fearless and paradise/ a place of natural beauty. Both are certainly beautiful, inside and out, though that's never been my primary goal for either.
If you're still reading, you might be wondering what my point is this week. That's a great question. Mostly, I was thinking about names and decided to write about them. Can't that be the point? What does your name mean? Do you like having a common/uncommon name? If you have thoughts on the topic, please name them in the comments.