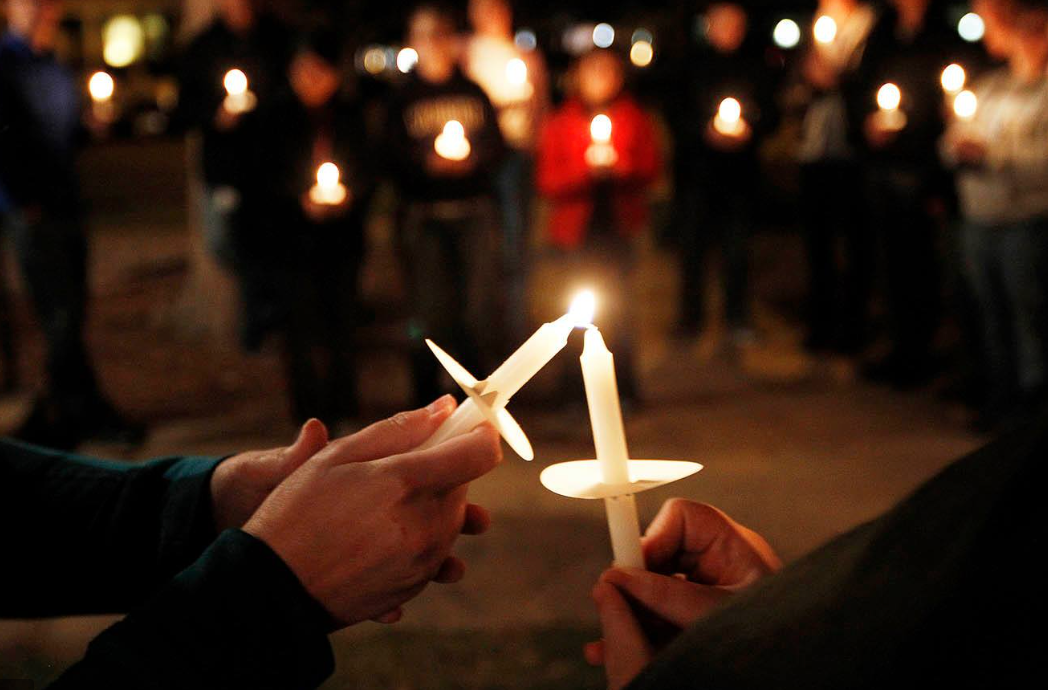 [The image comes from the City of Woburn's website.]
More than usual in composing my weekly blog, I'm acutely aware of the gap between when I'm drafting these words on May 25th at 10:30pm, and when my post will go live, in mid-July. At first, I was thinking that I could start the post saying that I was "recently at a candlelight vigil" organized by the students at my school to help mourn and process the mass murders at Robb Elementary School in Uvalde, Texas and at the Tops grocery in Buffalo, New York. Then, I had the horrible but not unreasonable thought that by July, these two tragedies won't be the most recent mass shootings. How can our country keep voting for politicians who aren't passing laws to make our children, our elderly, and all our other citizens safer? Assault weapons make it easy to kill people; we need to limit or ban their distribution. But that's not why I had the idea for this essay.
I wanted to share some of the sensations I had during the vigil itself. The night was windy, so keeping the candle aflame wasn't easy; I had to focus my attention on my hands. My friend's candle kept going out. (Hi, RVM!) We had to coordinate wordlessly to relight hers without losing mine. Despite the candle's negligible weight, my arm grew weary and shaky from staying in the same position for so long. The hand I was using to shelter the flame from the wind cramped. My untethered hair flew into my face, but I couldn't remove it. I had an itch on my back, but I couldn't scratch it. I remembered that I hadn't turned off the ringer on my phone. I wondered what the odds were of the phone's making any noise. (In retrospect, I can say they were 100% because it dinged.) I was acutely aware of my feet in my shoes, my legs holding me upright, my elbows at ninety degree angles, my wrists steady. My muscles tensed though I stood still. In short, holding a lit candle on a windy night brought me into an awareness of my body. As my father (Hi, RG!) wrote in a comment on an earlier post, I had to "be here now." And that attention to my anatomy's little annoyances in the face of such a tragedy was a privilege, a gift, a stroke of great luck.
The whole experience felt like part of a big metaphor for something related to making changes. We have to be minutely aware of our actions and cannot lose focus if we hope to succeed. To make changes in ourselves and in the world, we have to both be here now and imagine a brighter future. Just as it takes effort and discomfort to keep a flame going in the wind, it will take sustained effort to become a nation that doesn't so frequently have to mourn these preventable losses. The vigil served as an important reminder of the power of my body and the privilege I have to stand in solidarity and discomfort, and it reminded me that I need to use that power and privilege to help others have the same.
***
In coming back to this post just before it goes live on July 13, 2022, I'm saddened to have been right. (If you want a wake-up call, check out this website that shows all mass shootings in our country; there are too many to report about them all.) I'm thinking in particular about the eight lives lost in Highland Park, Illinois at an Independence Day parade. The irony is not lost on me that I think the murderer should not have had the freedom to own that gun.
And while I think the candlelight vigil I attended and the many like it around the country served an important function, they're not enough. I hope people will vote for politicians who are actively working to ban assault weapons and donate to organizations working to lobby for the same.
What else should we be doing? What are your thoughts on candlelight vigils? Please share your suggestions in the comments.