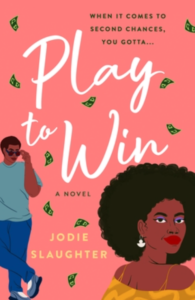 [Obviously, I can't keep up this pace, but it's vacation and NetGalley gave me three books at once.]
Play to Win by Jodie Slaughter (320 pages, St. Martin's Griffin, coming out 11 July 2023): I liked reading this three-pepper book. It's a fun idea that someone poor could win the lottery on her first-bought ticket (Jennifer E. Smith's Windfall does something similar) and not have the $220 million change her life in any negative ways. Slaughter creates a nice balance of showing the main characters (MC) with their family and friends and creating a compelling reason why the MCs struggle to believe they can make things work.
As far as the tropes:
second-chance romance
enemies to lovers
winning the lottery
small-town romance
So if you want a book where they're pining for each other physically but perhaps carrying too much baggage to make a go of things, you could give this one a try.
Overall: 3 of 5 stars