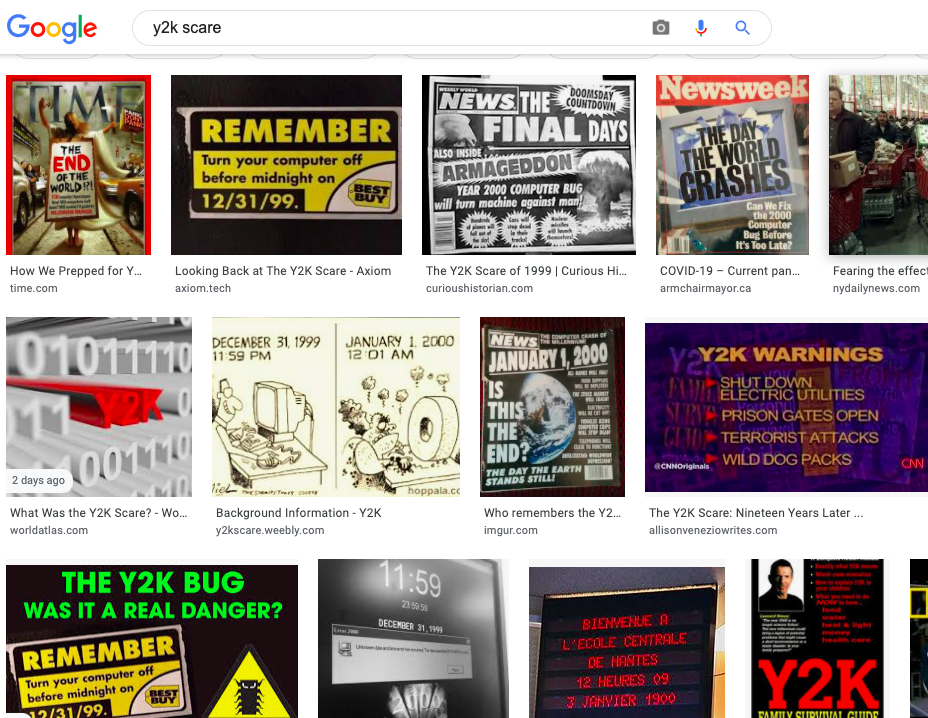 When I realized that my #hotchkiss365 tag has reached two thousand posts, I had two thoughts. First, wow, yay me. Second, I should do an essay on CaritaGardiner.com about why I've stuck with that project. Then, as my brain heard the title of this entry "Why Two Kay," I realized that it was an exact homophone for the big scare many of us had nearing the end of 1999. Would every computer system fail at the moment when two-digit-year entries turned from "99" to "00"? In case you're wondering, all banks, military controls, aviation, etc. did not simultaneously implode. Phew! Now I'm thinking that by the time humans (if they still exist) traverse the timeline from 9999 to 10000, people might use a different counting system or all systems of time might be irrelevant. Really, not my concern at that point.
Back to my first point. I've written several of these weekly essays about how I try to break goals up into manageable chunks. I've also written about why I started my feel-good-about-where-I-live-and-work hashtag, #hotchkiss365. What I haven't written about, until this moment, is the big wins that come from the tiny, tacklable tasks.
Recently, I was talking with an awesome former student, current Hotchkiss senior, future doctor. (Hi, Doc Adams!) She was feeling a total lack of motivation about two weeks before she needed to submit her college applications. I encouraged her to pick a minimal amount of time she could commit every day to work on the essays and supplements. We settled on fifteen minutes. For a quarter of an hour without fail, she turned off every possible distraction and worked on her college apps. I checked in on her most days, but once she had reduced the process to an amount of time she didn't dread, she didn't need outside accountability. Every day, she felt a small sense of accomplishment at meeting her goal. A few times, when she was on a roll, she kept going past the timer, but she never felt pressured to do extra.
As you have already figured out since I'm writing this story as a lesson, she got the applications done and submitted early, and if the college offices have any sense, they'll all take her. But what comes next is my point in telling this tale. What I was really thinking about was the day I saw her after she hit the magic "submit" button. She was elated. To sum up the process, once she broke the task up into mini-tasks, she never felt the overwhelming bad but still got the total good at the end.
Which is exactly how I felt when I got to see "2K" next to my hashtag. When I started the project, I planned to continue for a year, but now, almost six years into daily posts, I never felt a big burden but still earned a big pay off. What big goals do you have that will make you feel really great when you accomplish them? How can you portion them over a long time? Think about it.
That's the end of part one of this post, but I want to get back to the Y2K scare, too, because here we are, coming to the end of a calendar year, and it's not electronics we have to fear but a virus, and we won't get to heave an easy sigh of relief when we hit January 1, 2021 because the virus won't just disappear in one poof. Unlike twenty-one years ago, we're never going to look back on this fear and laugh about its horrors as being overblown or baseless. This year's many (many, many, many) challenges have taught us, I hope, to know that we can't predict what's going to forever change us. We can't know what the future will bring, so we have to figure out how to make the minutes we have count.
Another former student, also an awesome kid (Hello and thanks for reading my blog, A!) recently sent me the link to a great essay about breaking up our days into blocks. You won't regret reading Tim Urban's essay on "Wait, but Why," but in case you don't have any time, here's the basic idea: Most of us are awake for a little under seventeen hours per day, which translates into roughly a hundred ten-minute blocks of time. We should think about how to spend those blocks wisely, or at least unregrettably, as we can't get them back. I'd call that a clever way to break down the big into the little. We can all manage the little.
And of course, that idea brings me back to my first one. What can we do to keep moving forward, in baby steps, with big goals even when we don't know what tomorrow will bring? Any suggestions? Please share any thoughts in the comments.