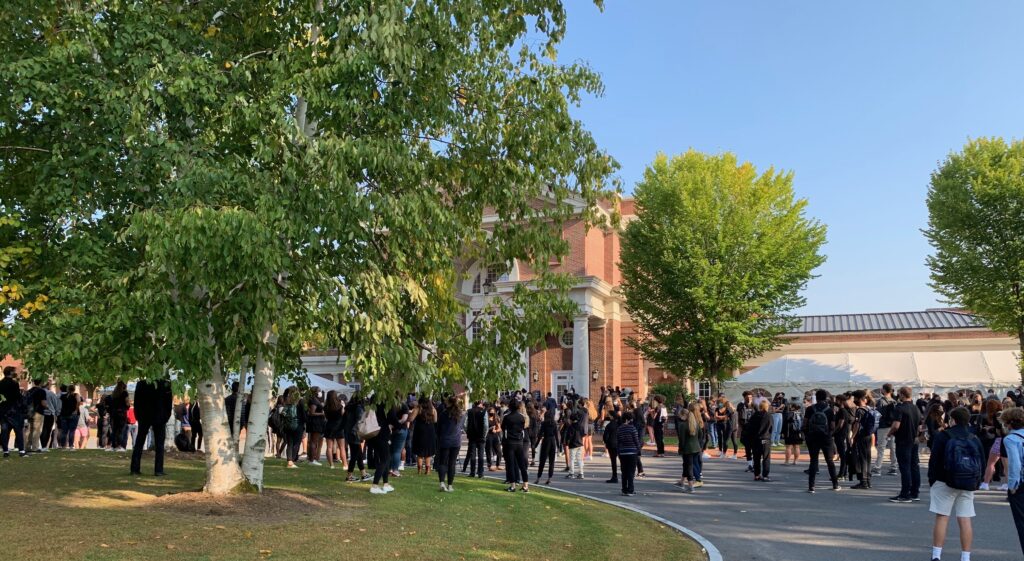 I took the photo above on Friday, September 25, 2020. That morning, three student groups on campus, MoCaH (Men of Color at Hotchkiss), Cafe (Women of Color at Hotchkiss) and BaHSA (Black and Hispanic Student Alliance), organized a walkout. The verdicts had just come in affirming that Breonna Taylor's murderers would not face punishment. The walkout started in the Main Circle, as pictured; then, the group walked together, chanting "Black Lives Matter" and "Say Her Name: Breonna Taylor," to the football field. There, with our masks on and spread six feet away from each other, we listened as BIPOC community members spoke about their total lack of surprise, their exhaustion, their hopelessness. The day wasn't easy; it was powerful.
And that power came, I think, because the BIPOC students were able to share their discomfort. For years, the BIPOC community has carried alone the many burdens of systemic racism. This year, as I've written about in earlier posts, white people can't as easily go back to life as usual, ignoring the problems from within a fog of privilege. I continue to believe that new focused attention is a silver lining on a very dark-cloud year.
The only way to get stronger or even to stay the same is to push muscles beyond what they can do easily. If we sit on the couch all day, our muscles atrophy. This fact is true for our brains, too. If we take in only what doesn't challenge us, we don't learn. Think about little kids. First they read picture books with just a few words per page. If they kept reading only those picture books, they'd never get to more complicated ideas.
I taught Claudia Rankine's Citizen to my eleventh-grade students this fall. The book doesn't allow for skimming; it weaves visual art, poetry, and photographs into a collage of vignettes and memories and calls to action. It doesn't let the well-meaning white person off the hook for perpetuating systemic racism. It's uncomfortable, and therein lies its power. It would be impossible for a white person to read the book and not come away a deeper view of what BIPOC people face.
I'm choosing to believe that requiring my students to enter into this discomfort is a gift I'm giving them.
I think back to a dear colleague and friend who advised us to maintain open minds and hearts. OMAH, she said. We need OMAH to enter a new situation and see all difficulties as challenges, all obstacles as opportunities. Only by charging headfirst, with OMAH and a willingness to expose our vulnerabilities, into the messy and uncomfortable can we grow as individuals and help our country move forward out of the muck (systemic racism, oppression, and injustice) in which we now wallow.
What uncomfortable situation or experience will you embrace soon? And how will you turn your own personal discomfort into an improvement? Please write your thoughts and suggestions in the comments.