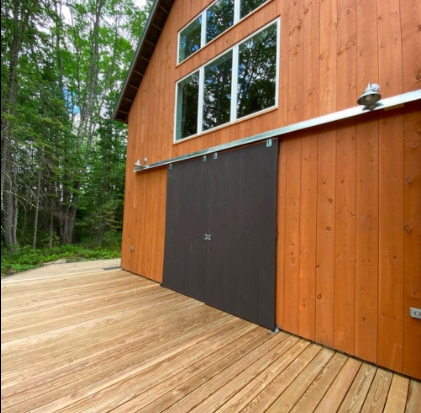 I took the photo from the Dovetail Custom Builders website, but it's a photo of the barn doors on the cabin Dovetail built for us. If you want to see what's behind the doors, you have a couple choices. Right now, you could check out their website, clicking the link for the Bristol. (If you know Lakeville and read the copy on that site, you might get a kick out of the fact that we use the cabin to "escape from the noise of city life.") The other way you could see what's behind the doors is to wait until the world spins on a normal axis again, and come visit us sometime when we're there. I hope that's not as long from now as it seems.
In any case, the real subject of this post is both literal doors and metaphorical ones. I was walking behind someone on campus the other day, and when she got to the door we were both entering, she held it open, waiting for me. In general, she certainly did the polite thing, but in 2020 terms, I couldn't help thinking about the fact that I now had to come into close proximity with her. In this world today, is it considerate or rude to hold a door? I'm going to say it's still polite, but I can see the other answer.
But then I was thinking about metaphorical doors. English teachers often look at literature in two categories, mirrors and windows/doors. If I give a student a book that reflects his/her/their experiences in life, I'm giving that child a mirror. A mirror acknowledges and affirms his/her/their experiences. Of course, different students see different literature as mirrors.
A book that serves as a window or door opens up the student's mind to see a new set of experiences. We learn empathy by entering others' worlds and experiencing their points of view.
As humans of all ages, we need both mirrors and doors. We need to know that we're not alone in the world, but also that our views aren't the only ones possible. As an educator, I see my job as providing both and giving students lenses through which to understand the views of themselves and others.
Let's open some doors for each other. What books have you read that have provided mirrors? Doors? Please put any great suggestions into the comments.