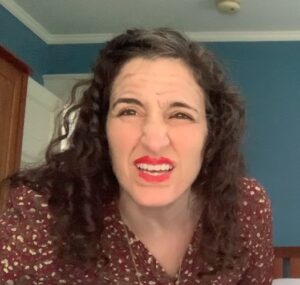 The photo above is a screenshot from a joke video I made with my younger daughter. We both dressed and made ourselves up in an "old-lady look." (If you read my post from last week, on my birthday, you'll see that I'm actually delighted with my age. This post isn't about that.) I know this picture isn't flattering, but I hope you find it funny. We need more humor in the world. If you laughed or even smirked, you're welcome. That said, my looks are the subject of this post.
One of my ninth-grade students, in her year-end reflection, wrote that at the beginning of the course, she thought I was scary, but she learned over time that I wasn't frightening at all. I asked her why she had been afraid, and she replied, "It was just your appearance."
"My nose?" I asked, two-thirds joking. My resting frown face? My height? Pointy chin? Double chin? (Do I have a double chin?) Out-of-control hair? I thought about all the ways I might look scary. Bad rabbit hole to go down, I don't recommend it.
"You looked so strict," she answered. (She put a "hehe" after her reply, so I guess she figured out what a pushover I am. Shh! Please don't let word get out, or it'll be nothing but work, work, work.) In some ways, that's not an answer at all, but in other ways, I find it telling. I have no idea in what ways a person can look strict.
I suppose I could change my looks: straighten or cut or dye my hair, wear less or more or different makeup, actually learn how to apply makeup the right way, wear brighter or darker or better-fitting or baggier clothes, or have total facial reconstructive surgery. Really, the list of ways I could make myself look different is limitless, but I'm interested in none of them (except maybe learning the right way to put on makeup because I've been winging it). When it comes down to it, I'm too lazy/cheap/set in my ways to put effort into changing my looks in those ways that are possible, and of course there are other ways that aren't possible.
No matter what I do, I won't ever look like a cisgender man. I won't ever look five feet tall. I won't ever look Black or Hispanic or Asian or Indigenous.
If you've been following social media or news about private schools in our country, you already know that this year has revealed decades of racist violence (verbal and physical) in American private schools. Hotchkiss, as safe and comfortable as the place is for some students, is no exception. I have been in the privileged position of ignorance; I didn't know what was happening, and I didn't know that there was much I didn't know.
We've had some overt anti-Semitic acts of which I've been fully aware. I've felt in the middle of those crises, but I remained wholly oblivious to the frequent anti-Black and anti-Asian and anti-Latinx and anti-Indigenous behavior surrounding me. I know that this statement reveals my obliviousness; I'm trying to learn more. So far, my work to grapple with my complicity in an unkind system has lead me to sadness and confusion, but also to the hope that we can become a school where all of our students feel safe, seen, supported, and loved.
How could I not have seen what was rampant around me? How much damage did I cause when I taught books that used words that I should not have been saying? Who sat in my classroom feeling unsafe, unseen, unsupported, unvalued, unheard, unloved?
For some of our students, my white skin alone is enough to give off a vibe that says, "If you're having a hard time, if people are treating you in racist/garbage ways, Ms. Gardiner's not a safe person to go to." I wish that weren't true, but I think it is.
As I've said, there are things about my appearance that I could change, but the thing I would want to change would be to make myself visibly an ally. I know that some Jewish kids feel safe talking to me about the anti-Semitic acts on campus because I look like they do. I wish I could also be a support to kids who don't look like me or have my same background. I wish my looks made clear to every kid that I'm on the team for safe-seen-and-supported-loved.
Until students who don't look like me can get to know me well enough to feel that I'm an ally, they need to have other people they recognize as on their team. We need to try harder (and I think we are starting to) to hire people who don't all look the same. Every student at Hotchkiss should be able to find supportive adults, and the kids shouldn't have to work too hard to find them. Of course, that said, I come to more questions. If there aren't enough BIPOC going into education, how can we hire more BIPOC to teach? How do we break this cycle? And until we do have the same percentage of BIPOC faculty as we have students, how do those of us who identify as white demonstrate our support? How can I made it clear to my students that I stand and will fight with them for justice and peace?
These are real, not rhetorical questions, and I'm hoping that somebody reading this will offer some answers. If you have suggestions, please share your thoughts in the comments.