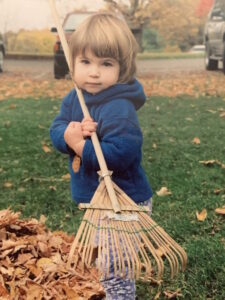 I have two daughters. Just after one of them turned twenty-one in one of the cities most world-famous for its parties and fun, she had to leave college to come live in isolation with her parents in rural Connecticut (not famous for fun). For her, I hope the world goes back to normal this fall so that she can enjoy her senior year of college on campus with her friends.
Senior Year. It's the last hurrah. While much of one's senior year might be spent figuring out what's next, it's also a time when many have the opportunity for closure. Seniors can look back at their childhoods and think about whom they want to become in their next stages of life, their first steps into independence and adulthood. While the next steps might be scary, they're also exciting. I hope my older daughter gets the full senior-year experience.
My younger daughter, pictured above at a simpler time in her life, is not getting a Senior Spring in high school. She completed the third marking period in a whirlwind of diving competitions and migraines and make-up work. She didn't know to say farewell to her friends. The world has changed in the last few months.
To be clear: I believe that social distancing is the best plan for this health crisis. I don't want any more people to get sick or die from Covid-19. At the same time, I hope it's okay for me to grieve my younger daughter's lost Senior Spring. I don't think it's petty to be sad that she will miss a lot of milestones that would have happened these months had the pandemic not started. I'll just list a few (some specific to our school, some will make sense to everyone):
Graduation
Senior Prize Dinner/Senior Prizes
Prom/Senior Dance
Senior Induction Dinner
Senior Talent Show
Senior Skip Day
Last Seder with her high school
Stu-Fac Basketball Game (Seniors play)
Sunbathing at the Hotchkiss beach
Celebrating her 18th birthday with friends
Although it's antithetical to a blog to say this, my feelings are ineffable. I've tried to summarize the ache I feel when thinking about these gaps, but words fail.
If you're feeling that this pandemic is horrible in a ton of small ways in addition to the many obvious and huge ways it's horrible, you are not alone in longing for life as we knew it. Maybe we can unite in enumerating what the pandemic has lost us. Maybe witnessing one another's lists will help us feel not quite so alone in acknowledging that while isolation is the right thing to do, it still stinks. Please feel free to write a comment that shares some of what this crisis has cost you.