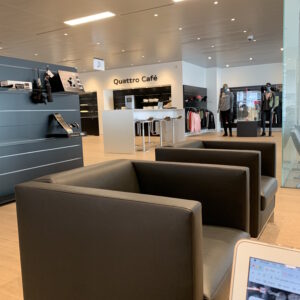 I have a really fancy car. It's glorious. More important, I have a super safe car. Five stars of safety. Still, there were two recalls and an update that Audi had to make on my terrific Q5. They said the whole process would take about three hours and asked if I wanted to use a loaner car.
The car dealership is right near a mall I like, so I thought about using their loaner car and heading to the mall. Then, I thought about how much money I'd probably spend at said mall. Instead, I decided to wait.
I brought supplies:
snacks
a book
my knitting project
my computer
airpods
In addition to taking the exciting photo above (from my seat in the lobby) and having the idea for this post, I got so much work done. Even with the woman next to me who started about five different short conversations, I had fewer distractions than I have at home. I did eat my own snacks and some of the food they had out, but I didn't end up reading, watching movies, or knitting. I wrote two blog posts and did school work. It felt great to get so far ahead.
When you have places to wait, what do you get done? Feel free to write some suggestions in the comments.