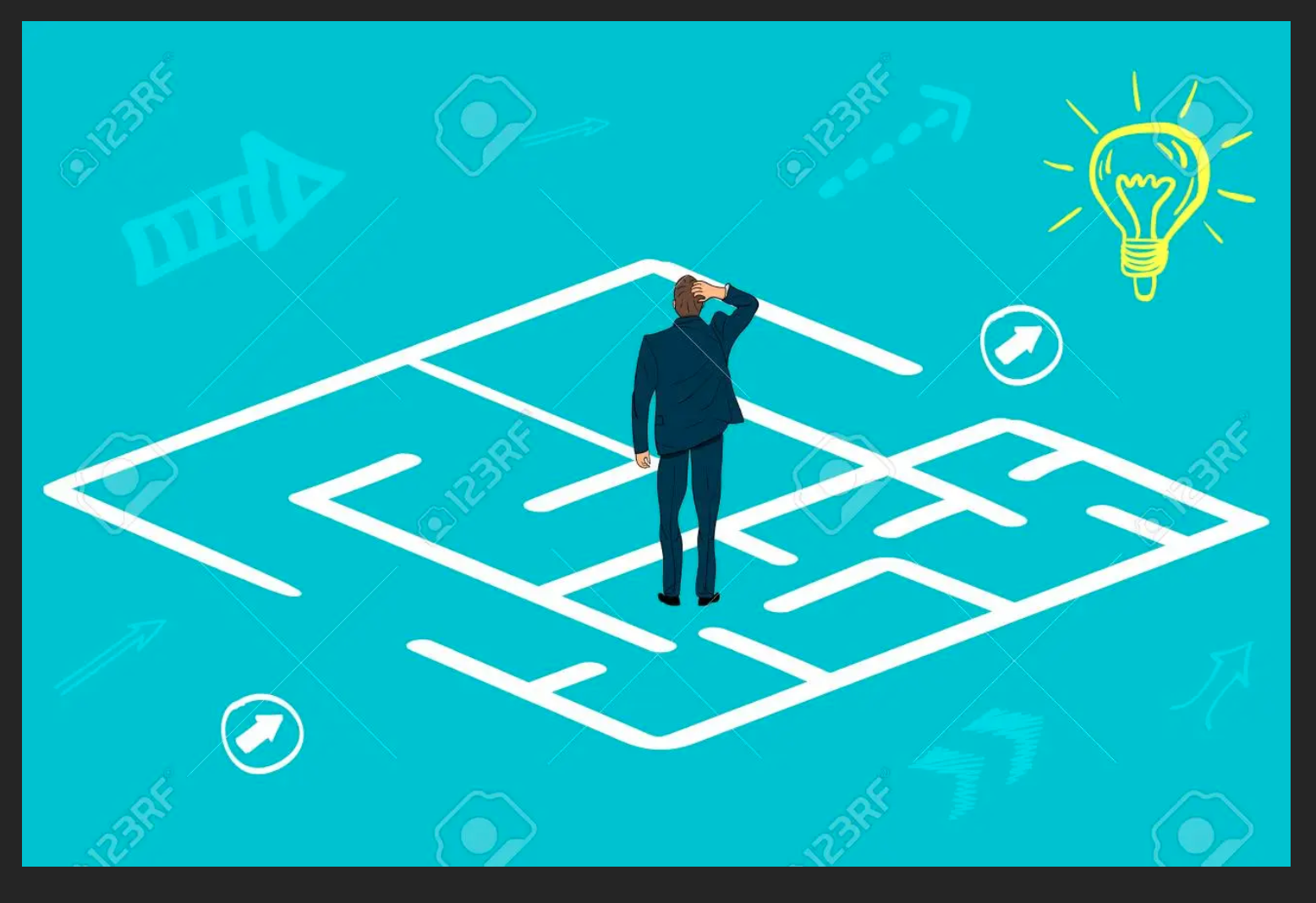 I selected the image above from a royalty-free clip-art website because the person in the suit has gone a few steps into a direction that will lead to a closed wall, and I've been thinking a lot about dead ends lately. In paper or corn mazes, going into a closed hallway provides a moment of mildly irksome failure in what one knows is a longer path to fun.
In life, dead ends can be terrifying. When a person makes a life choice and proceeds full-steam-ahead down a path, that person wants that path to lead to happiness, riches, accolades, friendships, and other measures of success. Sometimes, however, we realize that where we've ended up isn't where we want to be. When we looked out from point A to point B, it looked pretty great, so we took a stroll or a stride or a leap or a lot of hard work in that direction. Unfortunately, either on route or arrival, we came to understand that B's not a great place (or maybe it is a great place, for someone else). So we look around and find C, which looks better, but to get to C, we need to backtrack. All the hard work it took to get to B might feel like a waste of time and energy.
But I've been thinking about how valuable the path to B was. If we don't have to struggle to get to B, we have no chance of appreciating its essential B-ness. Additionally, B might not turn out to be some kind of mecca, but if we don't get to B or come close, we'll never know that C was the destination all along. To figure out if B is our new favorite place, we have to be able to see it clearly, from up close. We can inspect B well only if we proceed all the way down the B road.
You all know that Thomas Edison line about the value of finding 10,000 ways that didn't work. You also all know the Malcolm Gladwell assertion that you need 10,000 hours of concentrated practice to become masterful at anything. I've been thinking about the combination of those two ideas. Is it a bad thing if we spend 10,000 hours to learn one of the 10,000 ways that doesn't work? I'm going to argue that it's not. Without that effort we (1) wouldn't know as much as we do, (2) couldn't be sure about this version's not working, and (3) might not have any hope of getting to a way that works.
You might be thinking, "Ah, finally she wrote a post that had nothing to do with romance novels." Alas, you're wrong. In romance novels, somewhere between seventy and ninety percent of the way through, the couple finds themselves at a dead end or hits a speed bump or needs to make a detour or crashes or any other roadblock-related metaphor you can think of. In order for them to find their Happily Ever After, they need to learn from that obstacle and join together to move forward. Part of what I love about the genre is the safety of knowing they will overcome the challenge, and I don't think it's a bad habit to assume the same in real life.
Two very important people in my life have recently come to terms with the fact that they spent a lot of time and energy trying to get to B and realizing that B isn't where they want to be. They might not yet know what C is or how to solve for it, but they have successfully eliminated one path that won't lead to happiness. I'm proud of them for being willing to pivot, and I look forward to learning about C, D, and all the way to Z with them until they love where they are, what they're doing, and whom they're with. We're all learning to embrace dead ends.
Split ends are another story all together. Please don't embrace those. Cut the suckers off before they ruin your hair. And I think burnt ends have something to do with eating meat. I don't know. Onward.
Do you have thoughts about dead ends? Please share your ideas in the comments.