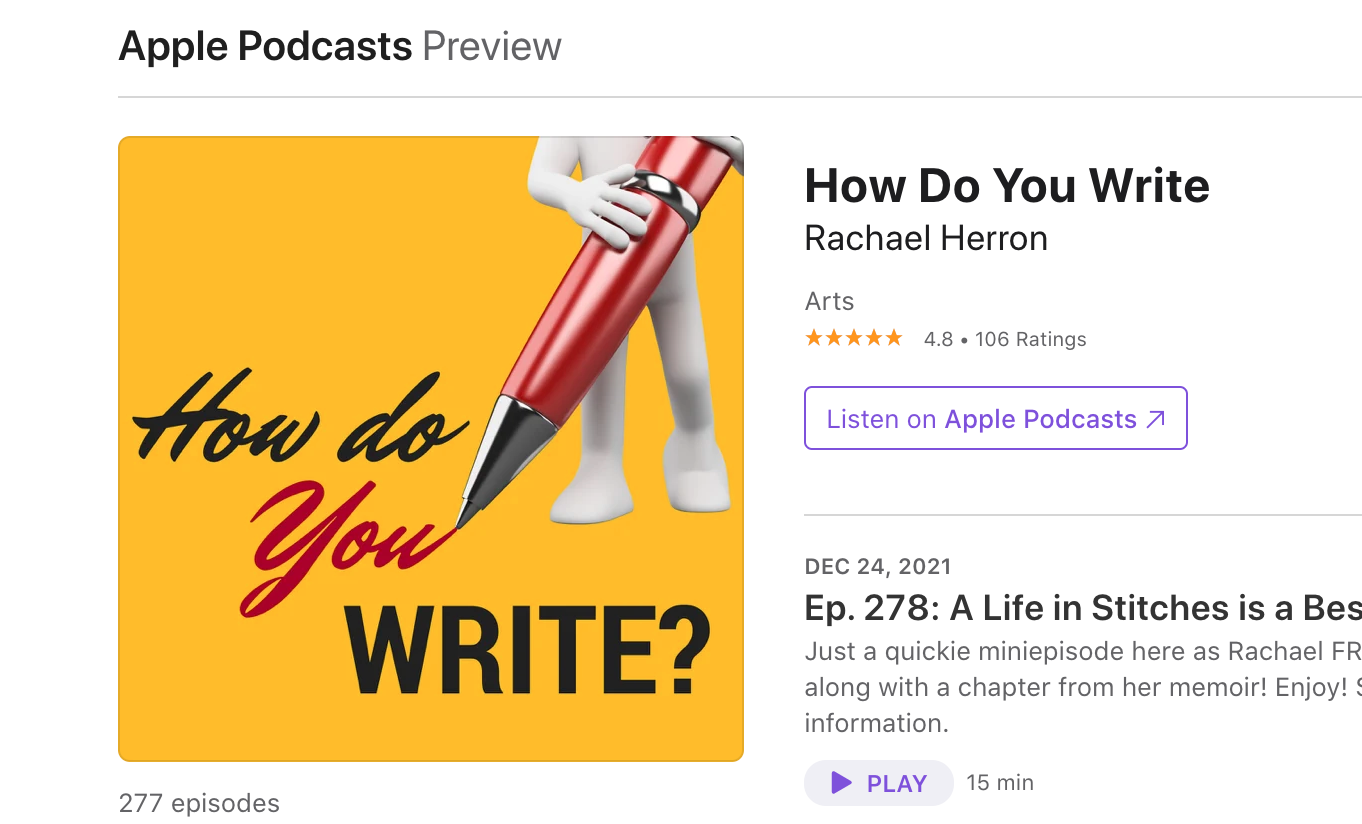 Rachael Herron is an amazing author, who's written romance, mystery, memoir, and nonfiction about writing. She's on the NaNoWriMo board. She also hosts the weekly How Do You Write? podcast, of which I'm a big fan. On the show, she interviews authors about their writing processes. I'm pretty sure that someday, she's going to want to interview me about my published works, so I thought it might be fun to run the interview out of order (before I have any published works for her to ask me about) and without wasting any of her time (I'm going to make up her part of the interview). Maybe someday, when she does have a good reason to interview me, we can both save time by using my imagined transcript below. (To be fair, the real Rachael Herron does way better with follow-up questions than the Rachael Herron I've created, so when she really does want to interview me, she might add some follow-up questions.)
Rachael Herron (as imagined by Carita): I couldn't be more excited to be interviewing Carita Gardiner today. While I've known her for a long time through emails, we've never had the chance to talk before. It was true delight to get to chat with her about her newest book, the third in a romance series set at a boarding school. It's coming out this week. Carita, thanks for joining me.
Carita: I'm so excited to be here. As you know, I've been listening to your podcast for years and have picked up many great ideas on it. I've been listening so long, I have your list of questions memorized.
RH(aibC): Then you know what I'm going to ask first. Tell me about your writing process.
Carita: For the first years I wrote, I had a very busy full-time job as a teacher at a boarding school. I pushed myself to write something every day, usually very early in the morning. I set 250 words as my goal. Most days, that was all I could do. When we were on vacations, I wrote significantly more, but no matter what, I got my 250 words done every day. I'm a big fan of setting manageable goals and getting to check them off my lists every day.
RH(aibC): What is your biggest challenge when it comes to writing?
Carita: Time. Between preparing my classes, grading papers, coaching diving, working in the dorm, being an advisor, helping out with a couple clubs, serving on some committees at school, and trying to be a decent wife, mother, and dog-mother at home, I'm often running on fumes. If I weren't so driven by the short-term desire to check boxes off on my to-do lists and the long-term desire to see my name on a jacket cover, I would have taken off a lot of days. Instead, even if I finished my school work very late at night, I'd stay up until I met my target word count.
RH(aibC): What is your biggest joy when it comes to writing?
Carita: I love writing dialogue. For first drafts, I often write whole scenes that I've come to think of as floating voices. I don't worry about adding gestures or speech tags or setting or action; I just hear the people talking with each other.
RH(aibC): Can you share a craft tip of any sort?
Carita: Get outside help. I am pretty good about keeping myself perpetually in motion, but I cannot step back to see what my work needs. When I had a completed draft of the first book, I paid a professional developmental editor (who happens to host another podcast I love -- Fated Mates, about romance novels -- to give me direction. Her ideas proved most helpful in moving me out of my own eyes and into a better version of my novel. (If you want to hire her, check out her website here.) Without taking that step, I never would have gotten published. Then I asked some friends to serve as alpha readers. I have a writing partner who gives me regular and helpful advice. I guess I'm saying the more help, the better.
RH(aibC): What in your life affects your writing in a surprising way?
Carita: I know that every writer reads a ton, but I didn't realize that when I make more time to read, I also find that I can write more. When I'm feeling too busy to read romance novels, I can't get myself into the headspace to write them. On days when I spend more hours reading for fun, I write faster.
RH(aibC): What's the best book you've read recently?
Carita: Like a lot of the people you interview, I can't pick just one book. In February, I wrote a post about TJ Klune's work, but I'm going to put House in the Cerulean Sea here again anyway. I love the way he creates a diverse cast of characters, a compelling story, and a beautiful happily ever after. The second book I want to talk about is one I've taught for the past couple years, and it's not a romance. Claudia Rankine's Citizen creates such a powerful message about what it means to be Black in America. I'm always impressed when people can effectively create a new genre, which Rankine does. (Two others I would say created new genres in their writing include Brian Selznick with The Invention of Hugo Cabret and Margaret Bradham Thornton with Tennessee Williams Notebooks. There are probably others I'm forgetting, but these two books were game-changers.)
RH(aibC): Tell readers about your book.
Carita: Not surprisingly, my books are romance novels set at boarding schools. I've read a lot of boarding-school literature about the students, but not anything about the teachers (except a few creepy teacher-student affairs that make my skin crawl). My sweet romance novels give a good sense of what young teachers in this world experience as they fall in love. (Yes, I did  meet and fall in love with my husband while we were both teachers at a boarding school, but none of the novels tell our story.)
RH(aibC): Where can we find you online?
Carita: That's a funny question since you're reading my website. If, by any chance, you got this far in reading the post and aren't already a subscriber to my weekly reminder emails, I'd love for you to consider signing up. It won't take you long and would mean a lot to me if you'd sign up and tell friends to sign up. I have a goal to reach a certain number of subscribers this year, and I'm still thirty short of that number.
RH(aibC): Thank you so much for being on the show. I've loved your first few books and am looking forward to reading the next ones. It's been a true pleasure to get to talk with you.
Real Carita: Thanks for reading my imaginary transcript of a distant-future interview. If you have any thoughts, questions, suggestions, or other imaginary interview topics, please feel free to share them in the comments below.