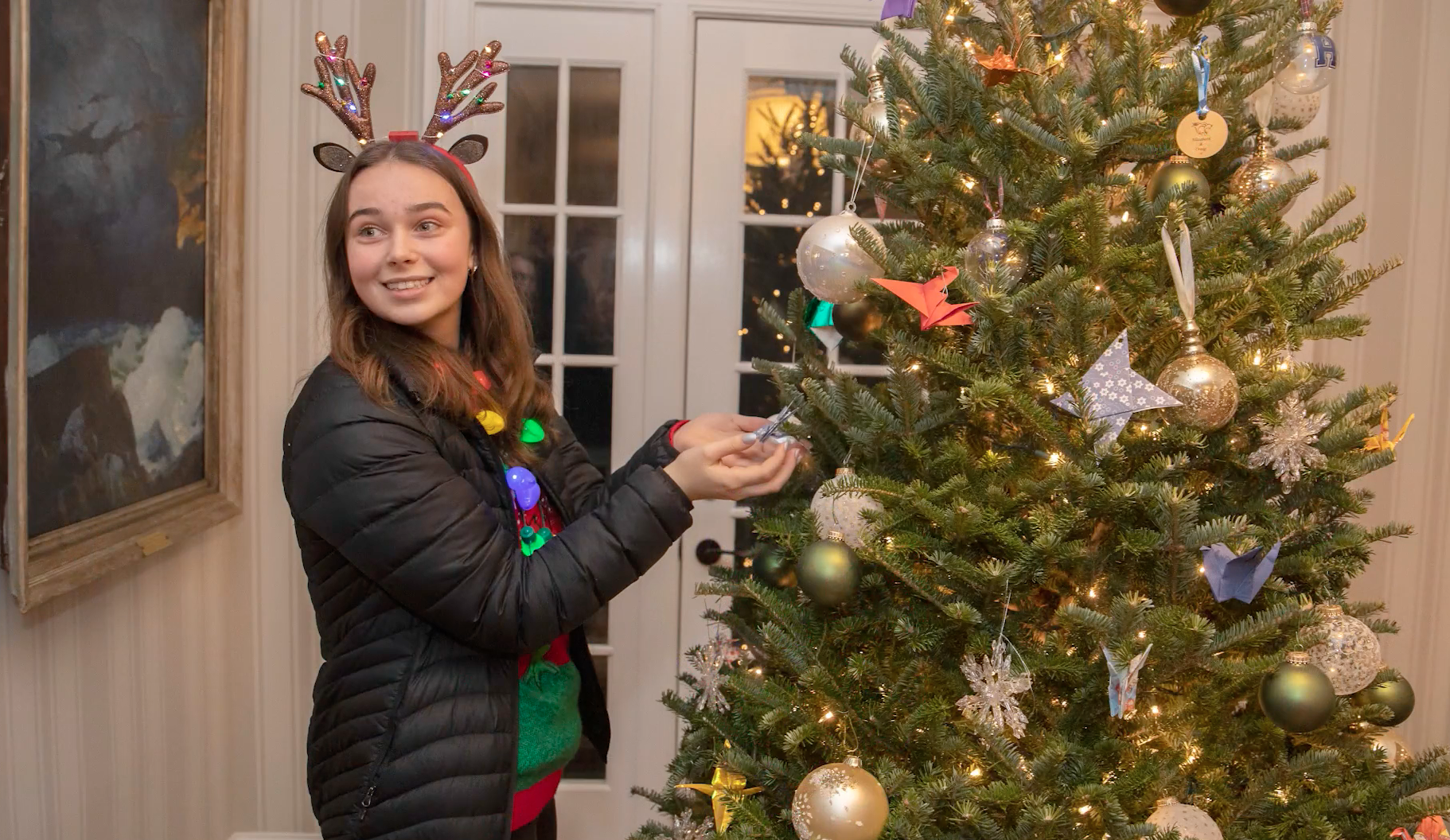 Okay, so I know that the holidays happened a while ago, but (1) why not keep the spirit in our hearts all year? and (2) this post isn't about Christmas, and (3) it's never too early to start planning what to give to your favorite Wednesday blogger...
As a member of the Senior class's council, I went to the Head of School's holiday gathering complete with origami-folding, tree-trimming, hot chocolate-guzzling, and matzoh toffee-hoovering. I took this photo of one of my former students. (Hi, MB!)
If you think she looks like a great kid, you're right. If you think she looks as though she was having fun, you're right again. If you think she just finished making an origami decoration for the tree, you're three for three. If you think, however, that she's holding up the crane she made, you'd be way off.
When the school's photographer asked her to pose for this photo (You can probably tell he was standing to my left.), my former students said that her crane wasn't great. She affixed it to the back of the tree, out of sight. Then, she delicately lifted this crane as you see in this photo. What a great moment.
I've always loved trompe-l'oeil paintings. I encourage you to look up works by Evert Collier, William Michael Harnett, and other masters of the genre. You'll also want to jump into the modern trompe-l'oeil artist rabbit hole, checking out images of garage doors, tattoos, graffiti, and more. If you look up  trompe-l'oeil photography, you'll find photos of objects that look like other objects or images where something amazing seems to be caught-in-the-act.
In my image above, the lie isn't the image -- she really did stand next to the tree, holding some folded paper, and smile -- it's the story. Humans want to create stories from what we see, but the story you'd create here doesn't match the event. If you see pride in my student's eyes, she wasn't feeling that emotion because of her great paper-folding skills but because of her ability to redirect this narrative. She knew that this moment would be captured forever and sent to scores of alumni, so she pivoted away from her own art and towards another's. Or maybe her pride came from being impressed with her classmate's skill at a difficult task. We'll never know.
And I guess that's the point of my post this week. There's a lot to see in this photo and even more we'll never see or know. Pretty cool.
If you have any stories to tell, true or otherwise, about seeing and believing or seeing and not believing or not seeing and––enough, you get the point––please share them in the comments.