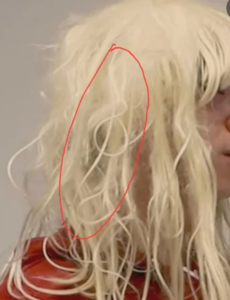 I found the photo above when I typed in an image search for "hair in a treble clef." (Someone posted the photo on Reddit.) There were plenty of images more connected to the topic of my essay below, but this one made me laugh...and made me want to get this person a brush.
If you're not comfortable with nudity, you might not want to read the remainder of this post.
I've been bathing myself for close to five decades (I had help in the first few years. Thanks, JKG, RG, and VG), and the other day, I experienced a first in the shower. When I happened to look down, I saw that one of my shed hairs formed a perfect treble clef on the tub's floor. Given my daily posting habit, my first thought was to grab my phone to snap a photo, but that thought came paired with the memory of the last time my phone got wet. I didn't relish the idea of needing another new phone.
My second impulse was to shout for a family member to come look. I decided that I'd save screaming from the shower for some kind of health emergency. No need to scare anyone–been there, done that.
So I went with plan C. I just enjoyed looking at that perfect hair art while it was there, slowly making its way toward the drain, where it could meet up for a short-lived play date with all the other hairs that didn't want to stick with me for another day. I appreciated the view, knowing it wouldn't last long and couldn't be captured in digital eternity.
A colleague giving a speech a couple years ago advised the students to "Look up and look around." (Hi, LR.) She was giving great advice to people who default to having their eyes glued to screens during every unstructured moment. We miss so much when we fear solitude spent in our surroundings with only our thoughts for company. My musical, follicular detritus served as a good reminder to keep my eyes open (except when rinsing the conditioner, as that would be foolish).
When was the last time you happened upon something marvellous? Please share your story in the comments, and don't forget to look up, around, and down. I hope you have a great week ahead.