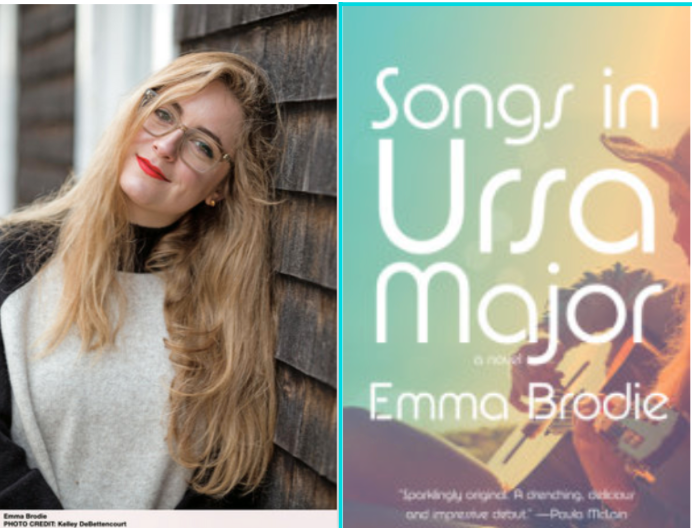 I took the photos above from the Penguin Random House page on which you can sign up to get news and information about Emma Brodie, the lovely spotlight of this month's author post. I have to admit that I'm going off-script today because Songs in Ursa Major isn't a romance novel, though it's romance-adjacent. I've decided that since I set the rule to talk about one romance author or trope per month, I can break that rule to talk about this wonderful author/book.
For full disclosure (for the one or two of you I haven't already told), I didn't just happen upon Emma's book while perusing the shelves at Oblong in Millerton. Instead, I pre-ordered it because I've known and loved Emma and her prose since she was my creative writing student at Hotchkiss.
When her book came out, I looked back at the college recommendation letter that I wrote for her and was thrilled to see that I remembered correctly having said that I expected her to have a published book someday. I predicted success for Emma not because every word that came in her first drafts deserved a Pulitzer (though she never gave me anything lousy) but because she (1) was prolific, always generating words, (2) willingly deleted and revised and edited  to every part of her work, and (3) paid attention to details. With these three traits, I knew there was no stopping her path to success.
I'm thrilled to report on her success. I thoroughly enjoyed reading Emma's debut novel, Songs in Ursa Major. Set in the late 1960s and early 1970s, the novel shows protagonist Jane Quinn's musical journey and romantic attachment to the complicated rising star, Jesse Reid. The following are the three main reasons I loved (and you should buy and read) the book.
First, Emma created a great story full of rich characters. From the first moment we see Jane on stage, we and her audience want her to succeed, but the music industry's systemic misogyny puts roadblocks in her path to fame and riches. While we are just as pulled in by Jesse's blue eyes as Jane is, we can tell that he too holds secrets. Emma paints the band members, music executives, and families of the main characters in captivating, three-dimensional ways as well.
Second, Emma did her research. She plunks her characters into a fully-realized hippy kingdom, deep in detail. At one point, I thought Emma had made a mistake when she referred to a character's leaving a message on an answering machine, so I checked her accuracy. Sure enough, the first answering machines came out in 1960. Emma shows her characters and story in a fully materialized 1969 and beyond. It's a joy to travel with Emma's interesting characters through their developed world.
Third, the writing is lovely. Emma gets into the main character's mind without having her reveal her huge secret. (Most of the characters have secrets; Emma leaves us breadcrumbs but doesn't neon-sign the path.) She knows when to push similes and how to wield dialogue. The book deals with some heavy issues, but also has humor and love and lightness. And in addition to writing a whole story, she also gives us pieces of the songs her fictional composers create. The prose has layers.
All this to say that if you haven't bought and read Songs in Ursa Major yet, you should get on it soon. You'll be glad you did. If you have already read it, please feel free to share your compliments to Emma in the comments. And if you want her to sign a copy, I bet I could talk her into it for you.