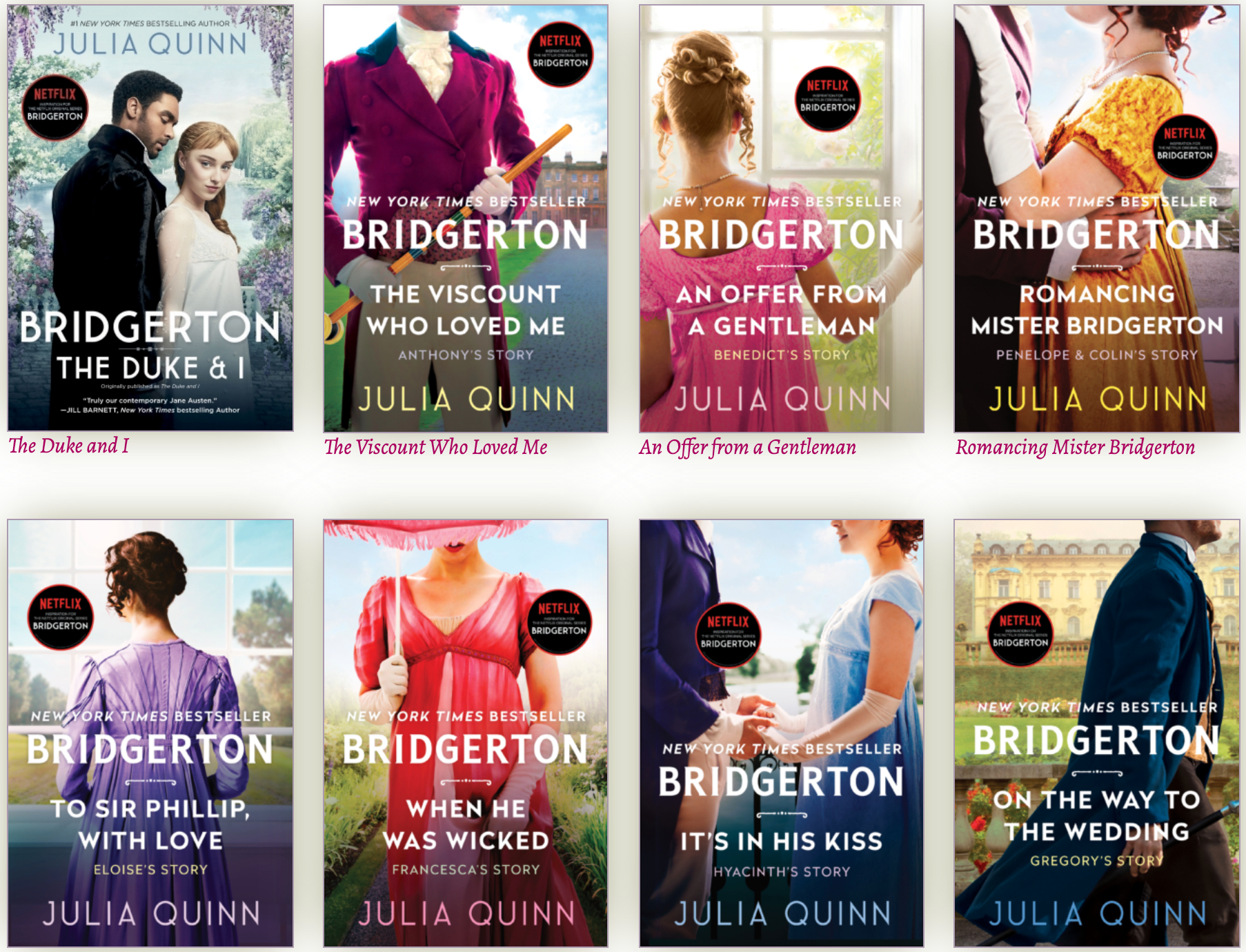 If you've seen any of my other recent posts, you know that 2021 is my year of reading romance novels, so imagine my delight when I got an email from the Senior Class Dean (Hi, CC!) saying that Romance Writers of America Hall of Famer, Julia Quinn (aka Julie Cotler Pottinger, Hotchkiss '87) will be the class of 2021's graduation speaker. Holy guacamole!
Last summer, during my year of watching TV, I watched the Netflix series Shonda Rhimes produced based on the first Bridgerton novel, but now, it's my year of reading, so I set to work on devouring as many of Quinn's novels as I could in time for her visit, which will happen three days after this post goes live. As I write this post, I've read all eight of the Bridgerton books and several from other series.
If you've gotten this far in the post, you either share DNA with me (hi, fam), have some interest in romance novels, or are a supremely patient and curious person. In any of those cases, I bet you'll keep reading to learn what I figured out about why Quinn's novels kept me reading.
The romance genre doesn't have a ton of must-be-met criteria, but every romance novel does require two elements:
at its center are two people who
get a happily-ever-after (HEA) or at the least, a happy-for-now ending.
I'd like to talk in general about that second item on the list. Many books' version of the HEA is to end with a first kiss, a marriage proposal, or a wedding. Think of how many movies fade to credits superimposed over a montage of the happy bride and groom. All of these endings assume that once the couple gets the first kiss or the proposal or the wedding, their work here is done. (As a side note, in many of the historical romances I've been reading, the couple has to break with polite society's rules by having premarital sex because the writer wants to get more sex scenes into a book that ends with the couple's wedding.) No matter how bumpy the road to the altar, a ring on the finger is the final destination. Then, many romance authors tack on short epilogues that show the happy couples, still happy, months or years later, maybe having produced a baby or two.
Most of the novels in Quinn's Bridgerton series don't end with any of those versions of an HEA. Instead, the protagonists often marry earlier in the novel, and their HEA is that they learn to love/trust/honor each other. I appreciate this twist on the trope, as people in the early 1800s got married for all kinds of reasons that had nothing to do with falling in love. The early weddings allow Quinn to insert plenty of steamy scenes within the bonds of marriage. (I get that "insert" might be the wrong verb to use in that sentence, but as I said, it's my year of reading romance novels.) Her HEAs feel more satisfying because they turn marriage into a true union rather than a financial or social contract.
But JCP/JQ doesn't stop with a single way to twist the HEA trope. For each book in the Bridgerton Octet, Quinn provides not one epilogue but two. The second epilogue shows the characters, sometimes decades later, actually living as a married couple. They're still hopelessly in love, but the reader gets to see them muddling through life's complications in real ways. I thoroughly enjoyed getting to catch up with each of the eight siblings in Quinn's second epilogues.
Another thing I love about Quinn's books is that she sneaks in fun tidbits for her most loyal readers. (Yes, I've officially crossed into that category.) For example, in Because of Miss Bridgerton, set a generation earlier than the Bridgerton series, the reader learns the origin story of the Pall Mall Mallet of Death, which comes to play several times in the years and books ahead. I hope that as I read more of her novels, I'll discover more connections among the books; I look forward to finding them.
All this by way of saying, I'm thrilled for Quinn/Pottinger's visit to campus this weekend.
Please share your thoughts on this author's techniques, the Bridgerton books or show, the role of the HEA, or your own HEA story in the comments.