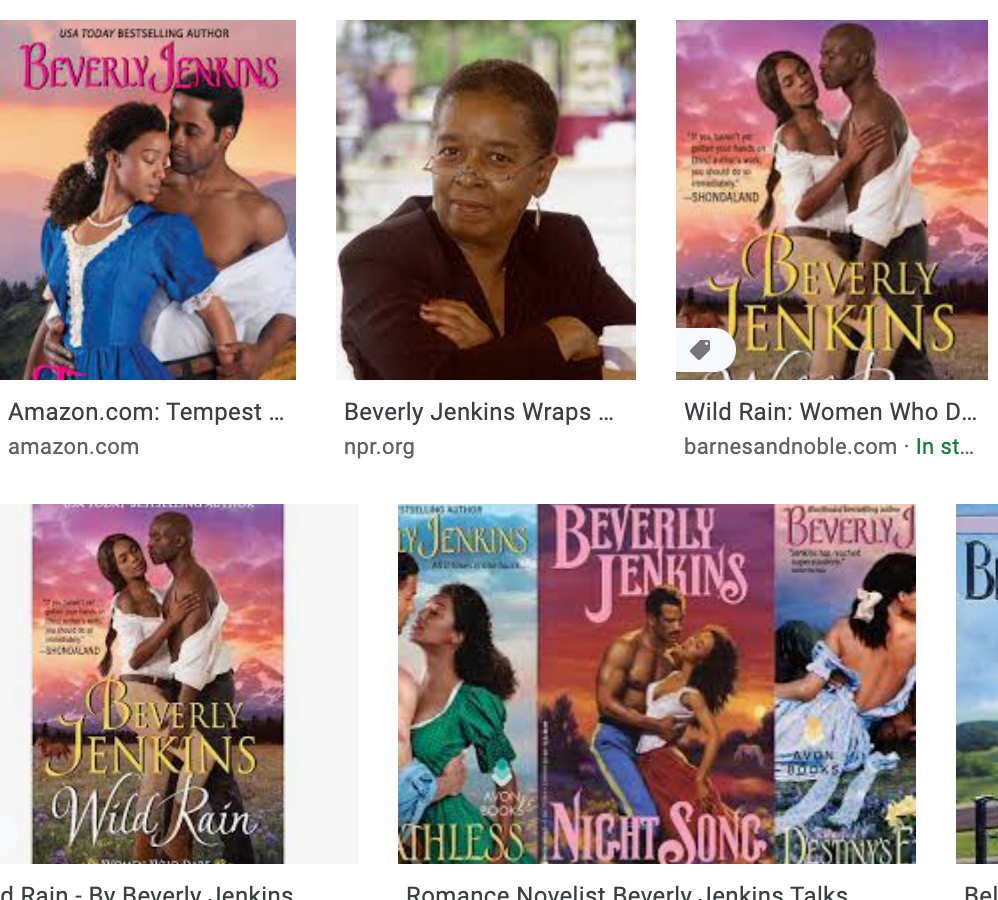 The screenshot above shows you this month's spotlight romance author, Beverly Jenkins with a few of her almost fifty novels' covers. I read as many of her books as my three library aps allowed (seven books) and thoroughly enjoyed her style.
Having come off my Lisa Kleypas month, I was immediately struck by the heroines of Jenkins' novels. Kleypas provides only virgins, where Jenkins has written at least one book in which it's the male protagonist who needs to learn a few things about sex. While most of Jenkins' heroines are still virgins, they have other experiences and knowledge to share. She writes about teachers, doctors, journalists, and other professional women -- all of whom had to break through both racial and gendered prejudice (and in some cases violence) to accomplish what they have.
All of Jenkins' heroines show resilience, strength, and pluck, but they have never known true love. Most of them don't believe in love and plan not to marry, so the overwhelming and undeniable feelings they experience in association with the heroes come as unwelcome surprises. Fortunately, the men towards whom these women fall hard all support women's career autonomy.
The men are all huge (read that however you want), strong, and completely unable to tame the women they love. They all decide that taming isn't the goal, just living with and loving.
Jenkins' books are longer than Kleypas's are. While both provide a great sense of the history of the time, Jenkins does more to fill in the gaps in a typical American education in details of Black and Native American triumphs, struggles, and obstacles (systemic racism). She sets most of the books I read in the 1870s in various locations (New Orleans, Michigan, Kansas, Arizona, etc) around the United States.
For those of you who like to read historical romance, I highly recommend Beverly Jenkins' books. If you read one (or fifty), please share your thoughts in the comments.