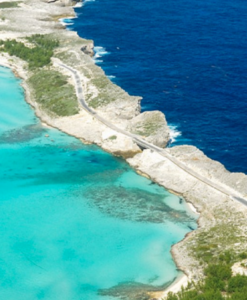 The photo above shows the coolest bridge I've ever crossed, though I didn't take this picture. I screenshot it from a tourism site for the Bahamas. If you ever get a chance to go to Eleuthera, Bahamas, I recommend taking time to stop at the Glass Window Bridge that has the Atlantic on one side and the Bight of Eleuthera on the other, but beauty and travel and natural wonders aren't the topic of this post.
I was listening to a podcast (and I'm sorry I can't remember which one, so I can't give real credit) on which someone said that the events of 2020 left us on a "bridge in time." Though I didn't have the foresight to write down the name of the podcast or the person speaking, the line has been stuck in my head for months because it made me think about the many ways our country has to decide where to go from here.
In particular, I'm thinking that as we move forward with policy, we have to decide as a country if we believe it's possible to MAGA or if we need to aim for MAG. That is, we need to decide about the "again" in our goal to "make American great."
If you believe "again" makes sense, you're probably white, male, rich, cisgender, heterosexual, Christian, educated, able-bodied, born here, English-speaking, and Republican. If you're all of those things, this country was built for you, and you might be hoping to push for keeping the systems in place that keep you on top, or you might realize the privileges you've had and want to work to extend them to others.
Most of us don't identify with all of those characteristics. Legally and socially, we have come a long way in not holding back people who don't match these identifiers, but certainly not all. To make America great, I posit that we need to change/fix some basic structures/systems:
education
housing
justice
medical care
government
infrastructure
Can we make America great for all? I think/hope so, but more of us have to be willing to admit that the way to bring the whole country up is to figure out how to pull up the people who've been forced to struggle at the bottom and to have the people at the tippy top give back. There's no way to stay neutral; we must all pick a side of the bridge we can believe in and start working our way across.
What am I missing? What did I forget or leave out? Please share your thoughts in the comments.